LeBron James Rips Charles Barkley: You're The NBA Bad Boy, Not Me
DALLAS -- After years of being fodder for Charles Barkley to comment on in his role as an analyst on TNT's "Inside the NBA," LeBron James has heard enough.
"He's a hater," James told ESPN of Barkley following the Cleveland Cavaliers' 104-97 loss to the Dallas Mavericks on Monday. "What makes what he says credible? Because he's on TV?"
James had been stewing the past couple of days after Barkley took James to task for the four-time MVP calling out the Cavs for needing to fortify the roster with another playmaker to have a realistic shot at a repeat title.
"Inappropriate. Whiny. All of the above," Barkley said of James last week. "The Cleveland Cavaliers, they have given him everything he wanted. They have the highest payroll in NBA history. He wanted J.R. Smith last summer, they paid him. He wanted [Iman] Shumpert last summer. They brought in Kyle Korver. He's the best player in the world. Does he want all of the good players? He don't want to compete? He is an amazing player. They're the defending champs."
Barkley has consistently needled James, telling HBO's Bill Simmons over the summer that James would "never" ascend to top-five status in NBA history over Michael Jordan, Oscar Robertson, Bill Russell, Kareem Abdul-Jabbar and Wilt Chamberlain, and going back all the way to 2010 and James' "The Decision" television special, when Barkley told ESPN Radio 103.3 FM in Dallas/Fort Worth that it was a "punk move" for James to leave the Cavs to take up with the Miami Heat.
James initially took the high road when asked about Barkley's recent comments, saying they were "good for the ratings," while defending his competitive spirit.
But after ESPN followed up with a story asking Tristan Thompson for his thoughts on Barkley's comments, James chose to speak out again in ardent fashion.
"I'm not going to let him disrespect my legacy like that," James told ESPN. "I'm not the one who threw somebody through a window. I never spit on a kid. I never had unpaid debt in Las Vegas. I never said, 'I'm not a role model.' I never showed up to All-Star Weekend on Sunday because I was in Vegas all weekend partying.
"All I've done for my entire career is represent the NBA the right way. Fourteen years, never got in trouble. Respected the game. Print that."
James, whose friendships with Dwyane Wade, Chris Paul and Carmelo Anthony have also been called into question, recalled watching a 1993 NBA Finals game between Jordan's Chicago Bulls and Barkley's Phoenix Suns and being surprised what he saw on his screen.
"Go watch the '93 Finals when John Paxson hit the shot," James said. "Barkley and Jordan were laughing and joking with each other during one of the games while somebody's shooting a free throw. In the Finals. But, oh, nobody were friends back then."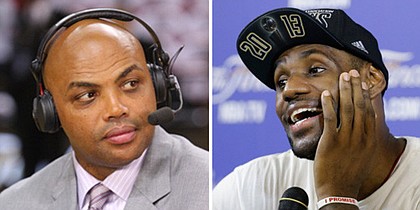 Bringing up Anthony reminded James of another basketball luminary who has tweaked him this season -- New York Knicks president Phil Jackson -- and he had a story to share about Jackson as well.