Neighbor Helps Blind Man As 2-Alarm Fire Burns Condos In SW Houston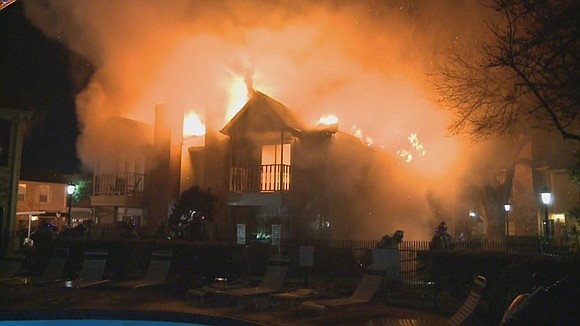 HOUSTON – A two-alarm fire destroyed four units at a condominium complex in southwest Houston early Tuesday.
Neighbors are calling one resident a hero. She helped rescue a blind man who was still inside the burning homes.
The fire broke out at about 1:25 a.m. on Jeanetta at Lipan, shooting big flames into the night sky and forcing residents outside. Firefighters arrived and fought the flames from the outside since all of the occupants already made it out safely. Firefighters managed to keep the flames from spreading to nearby buildings and trees.
Investigators believe an electrical issue sparked the fire in the attic of the Hamlet Cherbourge Condominiums.
No injuries were reported.
The Red Cross is assisting those displaced by the fire.
Neighbors say on Sunday they smelled smoke coming out of the same condo that caught fire Tuesday. Firefighters were called out over the weekend and found problems with the heater's electrical wiring, residents say. Firefighters shut off the electrical panel, but somehow it was turned back on when the fire broke out Tuesday.
For more information go to http://www.khou.com