The Texan's Texas: Easygoing Charm in Brenham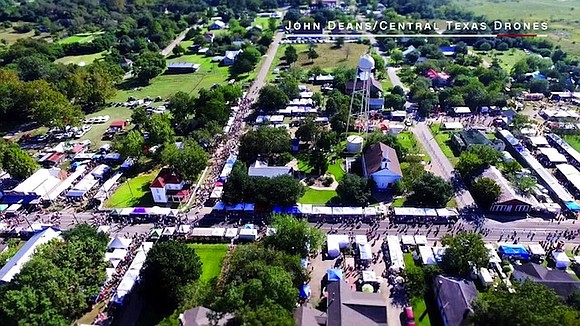 By John Nova Lomax
CNN
BRENHAM, Texas (CNN) -- When outsiders think of rural Texas, their thoughts tend to run toward cactus, tumbleweeds, oil derricks, coyotes and armadillos, cowboys and pickup trucks.
Say "rural Texas" to an old-school Houstonian, and you get a different picture. Often as not, their minds will run to the Brenham area about 75 miles northwest of downtown Houston.
It's a nostalgic vision that Brenham-based Blue Bell Creameries imprinted on the minds of Texans for decades through its beloved commercials, which featured the Texas version of the American dream.
In the Blue Bell ice cream ads, longhorn steers graze in the shade of the abundant pecan trees that stud Brenham's low hills, awash in the early spring with oceans of bluebonnets best viewed along 80 miles of Washington County back roads.
It's the Texas of quaint country stores and rope swings and swimming holes, where mama calls the kids home through the screen door of a tin-roofed country house to a rustic kitchen table, where bowls of Blue Bell and cool glasses of fresh-squeezed lemonade await.
But there's more to the Brenham area than a face-first dive into ice cream and nostalgia.
Yes, within a half-hour drive of the Washington County seat you will find the antiquing capital of Texas in Round Top. But you'll also find culture ranging from longneck-friendly, boot-scootin' country to fine wine, art galleries, Shakespeare and Beethoven. You'll find burgers, barbecue and the state's only Forbes five-star restaurant and accommodations ranging from camping to the super-deluxe.
It's easy to see why some have called Washington and neighboring Austin and Fayette counties Texas' largest, lowest-density big city.
Small town, big attraction
First, a little area history: As home to many of the "Old 300" (the first families of Anglo Texas), and the seat of revolt against Santa Anna's Mexican government, these Brazos bottom cotton fields were the "birthplace of Texas."
While lacking the oomph and human tragedy of the Alamo, Goliad or San Jacinto, hallowed grounds such as San Felipe de Austin State Historic Site and Independence Hall in Washington on the Brazos are indisputably the locales where the events by which Texas became Texas were set into motion.
With a population of about 20,000, Brenham should be the hub of any expedition into the area.
Its revitalized, Frank Capra-esque downtown is a jewel box of small-town defiance against the trend toward Walmart-based, chain-dominated edge cities.
It has boutique hotels, such as the ornate, antique B&B Ant Street Inn, with its fountained courtyard and Old South-themed rooms; Back Lot and other art galleries and professional plays at the Unity Theatre; and occasional concerts and vintage film screenings at The Barnhill Center, an arts complex that includes the town's old one-screen Simon Theatre.
Brenham punches well beyond its weight class in the dining department: 96 West offers Texas-style tapas (lamb tostadas, Texas beef sliders and bacon-wrapped quail, to name three), craft beer and one of the best wine lists between Houston and Austin, and chef Silvio DiGennaro offers sophisticated Southern Italian fare at Volare.