Trump, Putin and The Meeting That Could Shape the World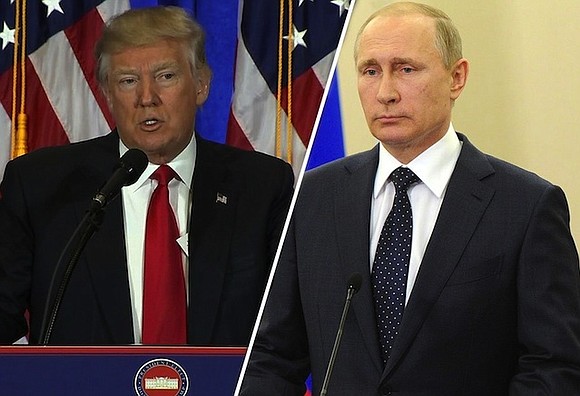 By Stephen Collinson
CNN
WASHINGTON (CNN) -- They meet, at last.
US President Donald Trump and Russian President Vladimir Putin have been circling one another, intrigued yet at a distance, ever since the former real estate tycoon launched his convention-busting White House bid.
This week they will come face-to-face in one of the most keenly awaited meetings between two heads of state in years, one that is rich with political, geostrategic and personal storylines.
At the G20 summit in Germany, Trump will greet the man believed by US intelligence agencies to have conceived an intelligence plot to disrupt last year's election and to help him take power.
Over the last four years, Trump has lavishly praised Putin, reviled by most of Washington as a US enemy; noted that the Russian leader has been "very nice" to him and denied his own previous claims that they have met before.
Putin, a former KGB officer who has put a bid to reassert Russian influence at the West's expense at the center of his foreign policy, has described Trump as "bright and talented" but warned that America is in the grip of political "schizophrenia" over allegations that Trump had shared top secret information with visiting Russian officials.
The extraordinary circumstances and political implications of their talks in Hamburg will ensure that their meeting later this week, and any encounter before the cameras in less-formal moments of the G20, is highly scrutinized.
But there's an added dimension to the encounter simply because it involves Putin and Trump.
Both men are well-known for using swaggering machismo at public appearances to intimidate opponents and project an image of strength, aware of the key role of body language in creating a political narrative.
"(I expect) an Olympian level of macho posturing between these two leaders, who both understand the importance of symbolism and the perception of being tough," said Derek Chollet, a former senior national security official in the Obama administration now with the German Marshall Fund.
Trump is under extreme political pressure to raise the issue of alleged Russian interference in the 2016 election.
He must also avoid any impromptu interaction with Putin that would play into his opponents' claims that he is somehow under the Russian leader's influence at a time when a special counsel is investigating whether there was any collusion between his aides and Russian officials before the election.
Putin has used optics before to express his displeasure with US presidents. In 2013, for example, tensions between him and then-President Obama were obvious as both sat stone-faced before the press at a photo op during a meeting in Northern Ireland. Obama later commented that Putin sometimes slouched "like the bored kid in the back of the classroom."
Even without the election question, the meeting between Trump and Putin is key for the future of Europe and the Middle East. The question of US sanctions against Russia for its incursion into Crimea, the future of Syria after the impending fall of ISIS and how to prevent American and Russian forces active in the country from clashing, and willingness of the US to stand by NATO allies are all in the balance.