Ciociaria: Secret Italian Region Offers Luxury Stays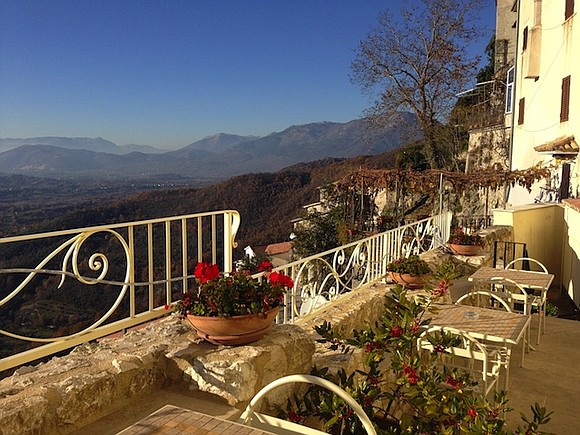 By Silvia Marchetti
for CNN
(CNN) -- "You see all this? It now belongs to my family after decades of hard labor and sweat. We've redeemed it," says Lorenzo Pacitti as he points to the hills surrounding his estate.
Pacitti is a rosy-cheeked shepherd, but not an ordinary one. He's a billionaire, like all his colleagues who inhabit Comino Valley in Ciociaria, a virtually unknown misty patch of fluorescent green land stuck in central wild mountains of Italy.
Its name comes from cioce, the hairy sheep-leather shoes worn by herdsmen in the past. Ciociaria isn't officially on a map, and is a secret even to most Italians.
This is where skeletons of our early ancestors were found in deep caves, where the fiery Samnite tribes fought against the bloodthirsty Romans, and where the Gustav Line ran during World War II.
For centuries, it was a no-man's kingdom at the boundaries of the rich papal state -- a poor and outcast region roamed by bandits, saints and pilgrims. But today it's enjoying a renaissance thanks to farmers, breeders and shepherds who've made a fortune with pigs, cured meats and mouthwatering cheeses.
They've opened rural resorts and gourmet restaurants. Their lavish villas dot the landscape amid medieval sanctuaries, healing fountains and pilgrimage sites rising from the ashes of pagan temples.
Sheep, goats and cows still cross the streets. Shepherds stop to say hello. But they've evolved, too. They don't wear cioce anymore or go around snatching abandoned properties with large bundles of cash stuffed in their pockets.
Victorian cheese bistrot
Pacitti, who drives a sleek, green Kawasaki motorbike, is the owner of a pinkish Victorian-style villa called Casa Lawrence, where English writer D. H. Lawrence sojourned in 1919 to write his novel "The Lost Girl."
Part of the mansion has been turned into a rustic cheesery, dubbed Caciosteria. There's also a B&B featuring vintage furniture, Lawrence's bed, chamberpot, bathtub, clothes, pajamas and writing table. There's an eerie ambiance at the reading corner where the author loved to sit and meditate, taking in the bucolic view.
"The property passed into my ancestors' hands because the owner, Lawrence's British host, had no more heirs or couldn't reach them. When he died my grandparents were already working on the land so it was easy for them to grab it," Pacitti explains.
Pacitti makes one of the best sheep pecorino cheeses in Italy. It's salty, crumbly and hard to bite with a thick outer skin. Best served with home-made fig and mulberry jam, the more seasoned it is, the tastier.
"It needs to stink of sheep," adds Pacitti, who also owns the valley's most prestigious dairy farm.
Another of his delicacies is Il Blu, which is a refined, pricey gorgonzola on the verge of having maggots in it, which sells at 45 euros per kilo (about $50).
At the Caciosteria, guests eat outside on wooden benches, surrounded by bull skulls hung on wooden doors to guard against ill omens. A final shot of ratafia liqueur with black cherries is the best digestif after a cheese-rich meal.