Trump, Putin High-stakes Showdown at G20 Ends After Over 2 Hours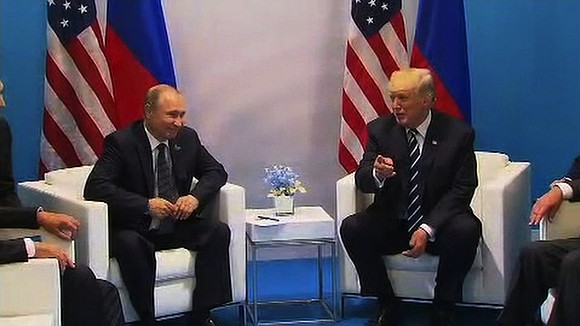 In another clip of video, the men stand side-by-side, smiling broadly. Trump then pats Putin on the back before the video cuts away.
Trump took to Twitter from Germany to look forward to his Putin meeting.
"I look forward to all meetings today with world leaders, including my meeting with Vladimir Putin," Trump said. "Much to discuss."
Any Trump-Putin meeting -- whether official or unofficial -- would be tense as both have pestered each other in the lead-up to the G20. Trump chided Russia's use of energy as a coercive force and for its actions in Eastern Ukraine on Thursday in Poland, while Putin subtly jabbed Trump's trade policies on the sidelines of the summit, according to the Russian state-run media.
"When discussing the situation in the global economy, the Russian side intends to focus on issues regarding ensuring positive dynamics of global trade," Putin said. "We oppose the growing policy of protectionism in the world."
Trump has championed more protectionist policies as President.
Trump's meeting with Putin is surely critical. But Friday schedule is stacked with possibly tense conversations for Trump, including a prolonged sit-down with Mexican President Enrique Pena Nieto.
Trump sat between British Prime Minister Theresa May and German Chancellor Angela during Friday morning's leader retreat and was seen chatting with the British Prime Minister. Putin was seated next to Pena Nieto. Trump, who flew to Germany from Poland on Thursday afternoon, met with Merkel upon landing and had dinner with Japanese Prime Minister Shinzo Abe and South Korean President Moon Jae-in.
Because much of the G20 happens out of sight from the media, optics will likely dictate how Trump's meetings with world leaders -- particularly with Putin -- will be viewed.
Trump, a businessman-turned-politician who prided himself on the campaign trail of being a political novice, has grown more aware of how optics play a critical role in foreign relations since his first forays on the international stage. During Merkel's meeting at the White House in March, Trump failed to shake the German leader's hand during their meeting in the Oval Office. The move cemented the global view that their relationship was icy -- a view that persists today.
Focus on Syria and Ukraine
Trump, administration officials tell CNN, planned to focus primarily on disputes in Syria and Ukraine.
There was little expectation on the American side that Trump would bring up Russia's 2016 election activities.
The President said Thursday that Russia could have been behind efforts to influence the election but suggested the finger can be pointed elsewhere as well and that "nobody really knows for sure."
"I think it very well could be Russia but I think it could very well have been other countries," Trump said during a news conference with Polish President Andrzej Duda. Russia has denied any involvement.
US intelligence agencies concluded in a report released earlier this year that Russia ordered an "influence campaign" to harm Hillary Clinton's chances of winning the election.
Trump, though, needled Putin in Poland, giving a well-received speech that strongly backed Article 5, the principle that dictates an attack against one NATO country is an attack against all of NATO.
Peskov, Putin's spokesman, said the Russian president took Trump's comments from Poland "into consideration" as he prepared for conversation.
This story is breaking and will be updated.