5 Things for Monday, July 10: The US and Russia, Iraq Fighting, London Market Fire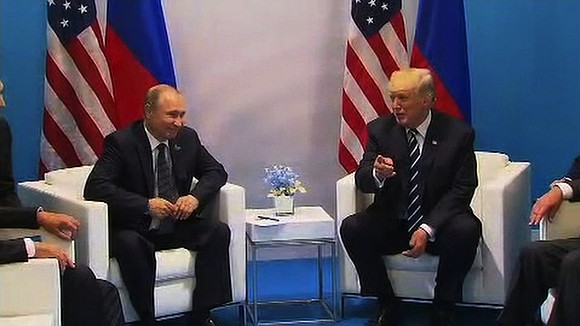 By Doug Criss
CNN
(CNN) -- Here's what you need to know to Get Up to Speed and Out the Door.
1. US and Russia
Donald Trump Jr. said he met with a Russian lawyer connected to the Kremlin last year because he'd been told the person had "information helpful to" his father's campaign. In a statement to CNN, Trump Jr. said the meeting was set up by an acquaintance from the Miss Universe pageant and that he also invited Jared Kusher and then-campaign chairman Paul Manafort to the meeting. Trump Jr. said the woman they met with said she had information that people connected to Russia were funding the DNC and supporting Hillary Clinton, before changing the subject to adoptions of Russian children. Trump Jr. said nothing came of the meeting and his father never knew about it.
The June 2016 meeting -- which happened two weeks after Donald Trump nabbed the GOP nomination -- is significant because it's the first known meeting of senior Trump officials with a Russian national during the campaign.
2. Iraq
There's some good news in the fight against ISIS. Iraq says it's pretty much kicked the militant group out of Mosul, except for a few fighters hiding out in pockets of the city. Iraqi's Prime Minister walked through the streets of Mosul this weekend as crowds cheered. He said the military is trying to free civilians from a few homes where ISIS is using residents as human shields. Mosul is Iraq's largest city next to Baghdad, so seizing it back from ISIS is huge.
3. London market fire
It took 10 fire engines and more than 70 firefighters to get a fire under control at one of London's best-known tourist attractions. Three floors of the Camden Market caught fire just before midnight, but fire crews managed to knock the blaze down after a couple of hours. The open-air market -- filled with more than 1,000 shops, food outlets and entertainment venues -- attracts about 28 million people a year. No word yet on what caused the fire, how bad the damage is or if anyone was hurt.
4. US citizen killed in Greece
A US citizen was beaten to death by a group of men in Greece, authorities said. Bakari Henderson, 22, who had recently graduated from the University of Arizona, was approached by another man at a bar when they began fighting. The fight spilled outside, where its reported Henderson was beaten by 10 men. Two people have been arrested and police are looking for the other suspects. Henderson was in Greece working on a photo shoot for a new clothing line.
5. California wildfires
At least 14 fires are burning from one end of the Golden State to the other, spurring thousands to evacuate. One of the fires, in Santa Barbara County in the south, threatened about 60 kids at a summer camp. They had to wait in a dining hall while firefighters fought the flames around them. The kids were unharmed. There are fires in Northern California too, must notably one in Butte County that's burned 5,600 acres and forced 4,000 people to flee.