Kushner Under Fire for Role In Meeting After Trump Jr. Email Release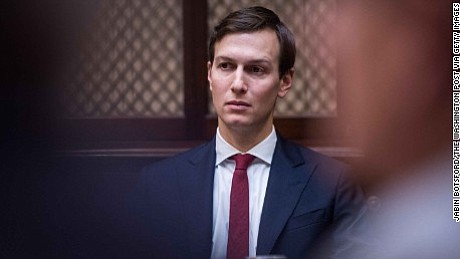 By Zachary Cohen
CNN
WASHINGTON (CNN) -- While President Donald Trump's eldest son, Donald Trump Jr., finds himself at the center of a political firestorm stemming from his controversial meeting with a Russian lawyer last summer, questions are also beginning to swirl around the involvement of another Trump family member who was present for the rendezvous: Jared Kushner.
Trump Jr. agreed to meet with someone he was told was a "Russian government attorney" after receiving an email offering him "very high level and sensitive information" that would "incriminate" Democratic presidential nominee Hillary Clinton, according to emails from publicist Rob Goldstone that Trump Jr. publicly released Tuesday.
The New York Times had reported Saturday that Trump Jr. met with Russian attorney Natalia Veselnitskaya, alongside Trump's son-in-law and senior White House adviser, Kushner, and former Trump campaign chairman Paul Manafort -- an account Trump Jr. later corroborated in a public statement.
The meeting took place June 9, 2016.
Kushner initially omitted the interaction with Veselnitskaya on his application for a security clearance, but included the meeting on a supplemental form.
The emails with Donald Trump Jr. about the Russian meeting were discovered as Kushner and his legal team prepared for his testimony before Congress as they were doing a document review, a source familiar with the process told CNN.
As soon as the document was discovered, Kushner's disclosure form was amended to include the meeting, the source said.
This means that Kushner's SF-86 changed a number of times: First, the inaccurate form, which left blank the foreign contacts section. Next (and the next day), the form was amended to say that he had multiple contacts and would disclose those. The process of gathering information progressed throughout the winter and spring. Then the form was amended yet again to include the Trump Jr. meeting as soon as it was discovered, a source with knowledge of the process told CNN.
On Saturday, Kushner's attorney Jamie Gorelick gave this statement: "As we have previously stated, Mr. Kushner's SF-86 was prematurely submitted and, among other errors, did not list any contacts with foreign government officials. The next day, Mr. Kushner submitted supplemental information stating that he had had "numerous contacts with foreign officials" about which he would be happy to provide additional information. He has since submitted this information, including that during the campaign and transition, he had over 100 calls or meetings with representatives of more than 20 countries, most of which were during transition. Mr. Kushner has submitted additional updates and included, out of an abundance of caution, this meeting with a Russian person, which he briefly attended at the request of his brother-in-law, Donald Trump Jr. As Mr. Kushner has consistently stated, he is eager to cooperate and share what he knows."
But the emails released by Trump Jr. Tuesday offered the most concrete evidence yet that Trump campaign associates and family members were willing to consider receiving support purportedly from the Russian government during the 2016 presidential campaign.