Lovell's Food For Thought - One's Legacy
Where are they now?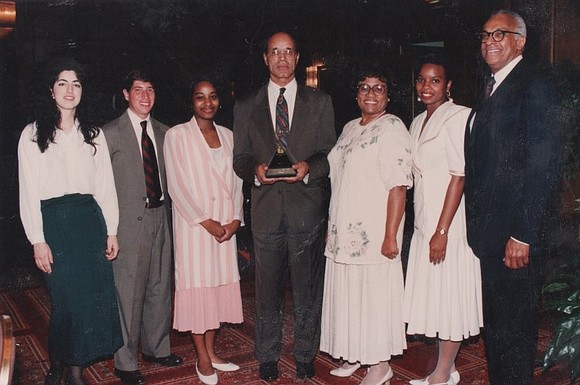 It is amazing how one picture keeps popping up over the years. One that links all of your efforts and centers around a phrase that my mentor Howard Bern use to repeat over and over again - "one's legacy to science is not the work that you do, but the people you leave behind." It was with this in mind when the Biennial Symposium on Minorities & Cancer was launched in 1987 in Houston, Texas with a component focused having poster presentations by underrepresented trainees on research related to health inequities, with somewhat of a focus on cancer.  I said somewhat, because of the fact that there were very few minorities doing cancer or health equity research at that time, let along minority students. In 1987, it was still a novel idea to have students, especially high school and college students, present their work during a major meeting as well as to interact with some of the leaders in the field. Today, it is estimated that over 9,000 trainees have participated in the educational events of both the Intercultural Cancer Council (ICC)/Biennial and the Health Disparities, Education, Awareness, Research & Training Consortium (HDEART-C). 
Last year, we launched the HDEART Health Equity Scholars & Alumni Network in an attempt to connect the dots, find out where these former trainees are and what they are doing today. It is this photograph from the 1993 Biennial Symposium and a comment made by Congresswoman Sheila Jackson Lee in 2016 that triggered the creation of the network. 
In the story picture are the student winners from the 1993 Biennial Symposium poster session competition. Also in the picture are Dr. Harold Freeman, who was that year's LaSalle D. Leffall, Jr. Awardee for Cancer Prevention & Control, then U.S. Surgeon General Joycelyn Elders and Dr. LaSalle D. Leffall, who presented the awards to the students, along with Dr. David Satcher, at the LaSalle D. Leffall Awards Gala & Dinner. Three awardee were college students, and one was high school student. All have gone on to earn degrees in health professions. I was able to keep track of two of them over the years. Maria E. Fernandez, Ph.D on the far left, now Professor at the University of Texas School of Public Health; who helped launch the Health Disparities Concentration at her institution, and Audra Robertson Meadows, MD, MPH second from the far right, who was a trainee in my research group. Audra has gone on to be a Commonwealth Fund Fellow in Minority Health Policy and now serves as Clinical Director, Birth Equity Initiative, BWH Center for Community Health and Health Equity; Instructor in Obstetrics, Gynecology and Reproductive Biology, Harvard Medical School and Brigham and Women's Hospital, Boston, MA. Both of these individuals have gone on from that day at the Biennial to distinguish themselves in addressing health inequities in America. Again, as my mentor, Howard Bern once said -"one's legacy to science is not the work that you do, but the people you leave behind." The network now has over 300 dots, a long way from the 9,000, but well on its way. if these guys are any indication of the impact these educational activities have had, the future is in good hands.