Main Course Cooking School Announces HRW menu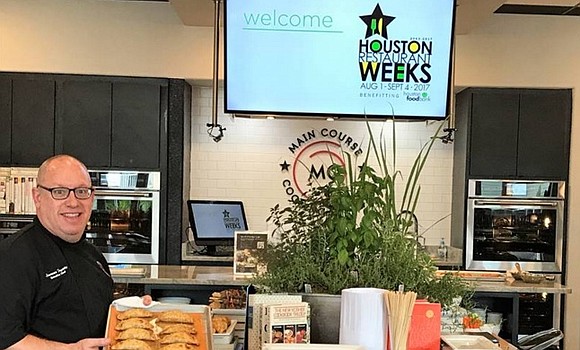 Spring, Texas (July 18, 2017) … Houston's premiere cooking school awaits inside the gates of MainStreet America. With 6 hands-on cooking stations, accommodating 24 students, the Main Course Cooking School is stocked with the latest cutting-edge appliances from Jenn Air and KitchenAid and real-world Chef Instructors. It's a fun and interactive destination for everyone from newbie to novice and for no occasion at all to a family celebration, Girl's Night Out, Date night or for a gathering of foodie friends who are serious about learning new techniques and recipes.
The recently revamped school from top to bottom is the only school of its kind in the Houston-area, which offers a totally hands-on experience where everyone enjoys the fruits of their labor. The school is one of only four Jenn Air cooking schools in the United States which will make cooking a delight during an in-class experience.
Houston Restaurant Weeks 2017
Sweetening the pot this August is the continued participation of the Main Course Cooking School in Houston Restaurants Weeks 2017. Guests are invited to select from three decadent $45 menus created especially for this annual fundraiser for the Houston Food Bank. Guests can choose to make one of the three-course menus whose entrees include a pan-seared sirloin fillet, southern shrimp and grits, and reverse seared pan-fried flat iron and shrimp. The full course menu can be seen at http://mccooking.com and will be available at dinner time between August 1 and September 4, 2017. From each of these special dinners sold, Main Course Cooking School will donate $7 to the Houston Food Bank. In turn, the Houston Food Bank will generate 21 meals from this donation.
Houston Restaurant Weeks is a non-profit organization founded in 2003 by Houston radio and TV personality Cleverley Stone, which has raised more than $9.6 million for the Houston Food Bank. The Houston Food Bank serves people who are food insecure in our community.
Chef Lawrence Fogarty, a long-time advocate of HRW admits he's thrilled to be included in the line-up, encouraging home-cooks everywhere to come and enjoy learning how to make delicious new dishes with family, friends or co-workers.
Main Course Cooking School
A multitude of cooking classes are offered at Main Course Cooking School including demonstration, hands-on classes, private group lessons, as well as special events where guests may customize the menu. Visit the FAQ section on our website for details: http://mccooking.com/Faqs. Main Course Cooking School classes allow you to experience new dishes and techniques. You are encouraged to eat what you made and then take the recipe back to your home kitchen to duplicate for family and friends.
The cooking school was created in 2013 by MainStreet America CEO Mike Feigin to offer another unique experience as part of the 13-acre showcase design home park. "The kitchen is the heart of every home," added Feigin. "It's where we come together to share about our day or to relax with a home cooked meal. We started the cooking school to give our guests another DIY-inspired experience and the ability to interact and learn from a great team of chefs so they can take home a recipe and create in their own kitchen with love."
Dietary restrictions are accommodated as best as possible with notice. Access to the home park ($20 value) is included in the cooking school class price, and aprons and hats will be provided for use in the class. Waiting lists are available for sold-out classes. To make reservations, visit http://mccooking.com/.
Our Head Chef
Our kitchens are headed by Chef Lawrence Fogarty, a native Houstonian, who studied at the California Culinary Academy in San Francisco, and was a chef for Neiman Marcus in both Texas and California. He returned home to join the MainStreet America team in 2012 and leads the
kitchens of the Main Course Cooking School, MC Barbeque & Southern Kitchen Restaurant, and Main Course Catering & Events, which are located at MainStreet America. In addition, he has four accomplished Chef Instructors that teach classes in their area of expertise. They include: April Peterson, Amanda Thompson, Manny Ranero, and Marie-Christine Dieppe.