Meghan McCain Sends Moving Tribute to Her Father, Her 'rock'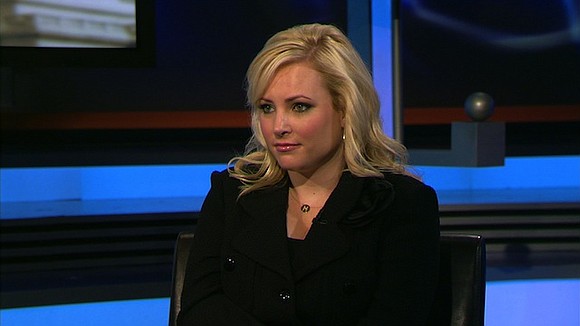 By Victoria Knight
CNN
(CNN) -- Meghan McCain, one of Sen. John McCain's seven children, posted a touching statement on Twitter on Wednesday night amid the news of her father's brain cancer diagnosis.
"My love for my father is boundless, and like any daughter I cannot and do not wish to be in a world without him," she wrote. "I have faith that those days remain far away. Yet even in this moment, my fears for him are overwhelmed by one thing above all: gratitude for our years together, and the years still to come."
On Wednesday, the senator's doctors confirmed to CNN that he had been diagnosed with brain cancer. McCain underwent surgery last week for a blood clot at the Mayo Clinic Hospital in Phoenix. Lab results from the surgery confirmed that the senator had brain cancer in the form of a glioblastoma. Glioblastomas are aggressive tumors that form in the tissue of the brain and spinal cord.
In the Twitter post, McCain said that though the brain cancer diagnosis shocked her and her family members, the feeling is not completely foreign. Her father was previously diagnosed with invasive skin cancer and has had several other malignant melanomas removed.
"Now we live with the anxiety about what comes next," McCain wrote. "It is an experience familiar to us, given my father's previous battle with cancer - and it is familiar to the countless American families whose loved ones are also stricken with the tragedy of disease and the inevitability of age."
According to a statement from John McCain's office, he is recovering "amazingly well." His doctors said he and his family are considering treatment options, including radiation and chemotherapy.
"It won't surprise you to learn that in all this, the one of us who is the most confident and calm is my father. He is the toughest person I know," Meghan McCain wrote in her statement.
Meghan McCain assisted with John McCain's 2008 presidential campaign. She became a co-host of the Fox News show "Outnumbered" in 2016.
Her emotional tribute was joined by an outpouring of support and well wishes for her father from President Donald Trump, former President Barack Obama and other prominent figures across the nation.
Meghan McCain ended her post with a final touching sentiment: "He is a warrior at dusk, one of the greatest Americans of our age, and the worthy heir to his father's and grandfather's name. But to me he is something more. He is my strength, my example, my refuge, my confidante, my teacher, my rock, my hero - my dad."
CNN's Susan Scutti contributed to this report.