Galleria Unveils Its New Saks Fifth Avenue Wing With New Boutiques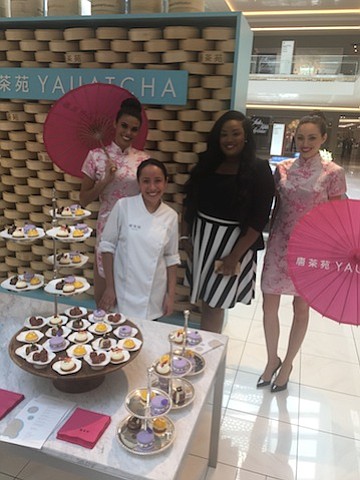 The Houston Galleria opened its newest Saks Fifth Avenue Wing on Westheimer. Featuring fashion previews with live models, Pop-Up Tea and Patisserie by Yauatcha, special gifts for attendees from GVI retailers and more. The Exclusively Yours, VIP Influencer Event was a fashionable partay!
Located in the former Saks Fifth Avenue space, the new wing houses such GVI stores as Ted Baker, AG Adriano Goldschmied, Sam Edelman, Lacoste, St. John, Cole Haan, Tumi, Coach, Peter Lik Gallery, True Religion and kate spade new york. The highly exclusive affair kicked off with Page Parkes models showcasing the latest designs from Coach, St. John's & True Religion. Hip-hop vibes flowed freely as a live DJ spun funky tunes while the crowd eyed fashion must-haves.
When people not mixing and mingling they were indulging on the bottomless champagne from luxury brand Coach, fancy treats from Yauatcha, Houston's newest upscale dim sum patisserie & teahouse, Pop-Up Tea and Patisserie by Yauatcha. Fashion and art are always a fab pairing and some lucky attendees took some exquisite pieces by Artist Peter Lik who is well known for his beautiful landscape photography. Coach, Lacoste, Kate Spade, Tumi, Ted Baker and Sam Edelman were feeling generous as well and joined the celebration giving out the swankiest gifts & grab bags!
The anticipated of this new wing of Galleria VI was almost too much for Houston's top VIP influencers that included only notable social media stars, young socialites and hip fashion bloggers. With an event this amazingly FAB of course Houston Style writers, Kelsey Whittington and myself, were among the invited guests with VIP fashion bloggers Kara Smith of Paper City, who runs the popular Common Polish blog, and Sanah Sue, who pens the working-girl blog, Beauty and the Pitch.
It was a fun and well-put together event, perfect for Houston's growing fashion scene. Fashionistas had been anticipating what the Galleria had been waiting to reveal for weeks and now the secret is out. The excitement will continue as more businesses are opening soon. Houston Style is most excited about the opening of the hip and notable eateries Fig and Olive and Nobu that will be the first Texas locations. Stay tuned for their grand opening because Fig and Olive and Nobu are sure to keep Houston on the upscale restaurant map. Galleria VI will also house Artist Peter Lik's newest art gallery, which will provide an enhanced experience for the cultured shopper!
The Exclusively Yours event was the most exciting shopping event to date! So get out and explore Houston's new scene and what the new expanded Galleria VI luxury wing has to offer! Find out more about Galleria VI and on how to be a VIP influencer online at www.simon.com/mall/the-galleria.