Houston-Area Finalists Announced for H-E-B Primo Picks Quest for Texas Best Contest
25 top culinary creators from Texas head to Austin finals, compete for $70,000 in prizes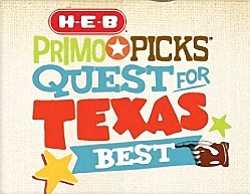 (HOUSTON, TX) – Out of nearly 600 entries, eight local food artisans have been named finalists in the fourth annual H-E-B Primo Picks Quest for Texas Best search for new and innovative products. The Quest for Texas Best is a signature program for H-E-B's Primo Picks brand, which labels best-in-store products, all unique, delicious, and new. Since its inception in 2014, the Quest for Texas Best competition has yielded more than 200 new products on H-E-B store shelves across the state.
This year's contest attracted applicants from more than 200 cities and towns across the Lone Star State, generating a delicious mix of sauces, salsas, spices, sweets, spreads, mixes, and meats. In two qualifying rounds, H-E-B Business Development Managers judged submissions based on taste and flavor, customer appeal, value, uniqueness, market potential, and differentiation from products already available at most H-E-B stores.

"Quest for Texas Best is an extraordinary opportunity for Texans to feature their products on H-E-B store shelves, and for all to explore and enjoy locally sourced products," said James Harris, H-E-B Director of Diversity & Inclusion and Supplier Diversity. "After all, Texas is home to smart, inventive food entrepreneurs and it's an honor to be on the forefront of their journey to success."
On August 10 and 11 at Austin's Central Texas Food Bank, the 25 final contestants will present their creations to a panel of expert judges, who will select four winners based on quality, marketability, and product readiness. The grand prize winner will receive $25,000 and be named a "Texas Best" Primo Pick. First-place will receive $20,000, with $15,000 awarded for second, and $10,000 for third. Each winner will receive placement on H-E-B store shelves and be named an H-E-B Primo Picks product.

Contest finalists include eight entrepreneurs from the Houston area; nine from the Austin area; six from the San Antonio and West Texas areas; one from the Rio Grande area; and one from the Dallas area. Houston-area finalists include:
• Just Made Foods
Ready to start juicing? Norka and Walter Nimocks are reinvigorating the juicing craze to not only provide health benefits, but to also help communities in need. Just Made is a mission-based brand that donates five cents for every bottle sold to support the teachers and students in farming communities in the tropics. Developed in partnership with Texas A&M's Department of Nutrition and Food Science, Just Made's Papaya Passion follows the company's formula of providing health-boosting benefits with a unique flavor experience. The tropical blend of papaya, passion fruit, lime and hint of ginger aids digestion and helps convert nutrients into energy. Additional flavors include: Turmeric Temptation, Dandelion Delight, Berry Bliss, Kale Karma and more blends on the way!
• Chilesquiles Foods
CHILESQUILES is the essential chilesquiles sauce for homemade Mexican cuisine. No need to start from scratch. CHILESQUILES founder Octavio Orozco perfected this authentic recipe to help at-home cooks spend less time cooking and more time savoring a delicious Mexican meal. CHILESQUILES' Homemade Chipotle sauce is handcrafted in small batches with fresh, natural and sustainable ingredients. Mix with a favorite dish and enjoy!