Houston-Area Finalists Announced for H-E-B Primo Picks Quest for Texas Best Contest
25 top culinary creators from Texas head to Austin finals, compete for $70,000 in prizes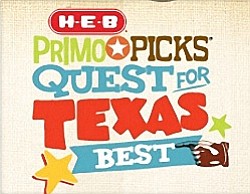 (HOUSTON, TX) – Out of nearly 600 entries, eight local food artisans have been named finalists in the fourth annual H-E-B Primo Picks Quest for Texas Best search for new and innovative products. The Quest for Texas Best is a signature program for H-E-B's Primo Picks brand, which labels best-in-store products, all unique, delicious, and new. Since its inception in 2014, the Quest for Texas Best competition has yielded more than 200 new products on H-E-B store shelves across the state.
This year's contest attracted applicants from more than 200 cities and towns across the Lone Star State, generating a delicious mix of sauces, salsas, spices, sweets, spreads, mixes, and meats. In two qualifying rounds, H-E-B Business Development Managers judged submissions based on taste and flavor, customer appeal, value, uniqueness, market potential, and differentiation from products already available at most H-E-B stores.

"Quest for Texas Best is an extraordinary opportunity for Texans to feature their products on H-E-B store shelves, and for all to explore and enjoy locally sourced products," said James Harris, H-E-B Director of Diversity & Inclusion and Supplier Diversity. "After all, Texas is home to smart, inventive food entrepreneurs and it's an honor to be on the forefront of their journey to success."
On August 10 and 11 at Austin's Central Texas Food Bank, the 25 final contestants will present their creations to a panel of expert judges, who will select four winners based on quality, marketability, and product readiness. The grand prize winner will receive $25,000 and be named a "Texas Best" Primo Pick. First-place will receive $20,000, with $15,000 awarded for second, and $10,000 for third. Each winner will receive placement on H-E-B store shelves and be named an H-E-B Primo Picks product.

Contest finalists include eight entrepreneurs from the Houston area; nine from the Austin area; six from the San Antonio and West Texas areas; one from the Rio Grande area; and one from the Dallas area. Houston-area finalists include:
• Just Made Foods
Ready to start juicing? Norka and Walter Nimocks are reinvigorating the juicing craze to not only provide health benefits, but to also help communities in need. Just Made is a mission-based brand that donates five cents for every bottle sold to support the teachers and students in farming communities in the tropics. Developed in partnership with Texas A&M's Department of Nutrition and Food Science, Just Made's Papaya Passion follows the company's formula of providing health-boosting benefits with a unique flavor experience. The tropical blend of papaya, passion fruit, lime and hint of ginger aids digestion and helps convert nutrients into energy. Additional flavors include: Turmeric Temptation, Dandelion Delight, Berry Bliss, Kale Karma and more blends on the way!
• Chilesquiles Foods
CHILESQUILES is the essential chilesquiles sauce for homemade Mexican cuisine. No need to start from scratch. CHILESQUILES founder Octavio Orozco perfected this authentic recipe to help at-home cooks spend less time cooking and more time savoring a delicious Mexican meal. CHILESQUILES' Homemade Chipotle sauce is handcrafted in small batches with fresh, natural and sustainable ingredients. Mix with a favorite dish and enjoy!
• Cheezinos
Cheezinos represents the very best Brazilian-style cheese rolls in Texas. Inspired by Ahn's mother-in-law, Dona Keiko, they are ready-to-bake, gluten-free (pao de queijo); all natural and crafted with carefully selected ingredients. They can be served for breakfast, as a snack or as small party bites.
• D'Gusto
Brothers Oscar and Mario Velasquez have treated Houstonians to favorites from their homeland for almost 20 years at the popular Mi Pueblito restaurants. After realizing their Colombian-style empanadas were popular with Texas school systems and following a brush with Super Bowl LI, they decided it was time to make their delicious pockets of 100% corn-based dough filled with pulled pork, beef chipotle, chicken jalapeno or beef and beans available to everyone. Be on the lookout for new options with brisket and chorizo.
• Couple Of Cooks Snacks
Brad and Hannah Montgomery are bringing a whole new meaning to the term "snacking." What started out as annual Christmas gifts for family and friends turned into a "Texas Made - Texas Proud" business. Couple Of Cooks Snacks are small batch, hand-crafted snack mixes like CRACK Mix with pork cracklins; gluten-free Fire-CRACK-ers with spicy pork cracklins; Better with Cheddar & smoky bacon flavor; and Chipotle-Chocolate Crunch with a hint of cinnamon. Caution – these snacks are highly addictive!
• WarPig BBQ
Dennis Butterworth's BBQ sauce, F.U.B.A.R (For Use on Butts And Ribs), is an elite sauce forged in the trenches of barbecue competition. This award-winning sauce was crafted by U.S. Army veterans to be the one and only sauce you need in your arsenal. Whether you're a professional chef or a backyard grill commando, F.U.B.A.R.'s sweet, tangy flavor bridges the gap for all barbecue palates.
• Lone Star Bee Company
Created with help from Texas honeybees, Lone Star Bee Company offers undeniably sweet and uniquely infused honeys. Each flavor is small-batched, hand-crafted and intended for use as a topping or single ingredient for a countless variety of favorite foods. Co-owners Mark Crippen and Nicki Praiswater traveled throughout Texas seeking the very best Texas honeys. With the help from honeybees from Pearsall and Central Texas, the duo created two unique Texas monofloral honey varietals - Fiery Sweet Mesquite honey and Lucky Lime & Sea Salt Clover honey. The easy-squeeze bottle allows individuals to quickly add the honeys to their favorite foods without creating a sticky mess or a need for honey dippers and spoons.
• Lazy Bee Honey Co.
West Texas high school sweethearts Nathan and Christi Wade are the visionaries and bee farmers behind Lazy Bee Honey Co. with a mission to spread their sweetness across Texas. Their line of quintessential honeys has taken the Lone Star State by surprise, making sweet and simple products that are comprised of only natural, locally-sourced ingredients without the use of corn syrup, food colors or chemical preservatives. The three most popular flavors are Cinnamon Pecan Honey Butter, Honey Peanut Butter and Cinnamon Honey.