Drake Hosts Charity Barbecue at Emancipation Park for Houston Appreciation Weekend
Natasha Ero | 7/28/2017, 12:45 p.m.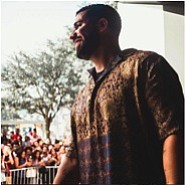 No matter how famous he gets, Drake will always give credit to Houstonians for helping his star rise. He shows his deep appreciation for that special love Houstonians have showered him with by pouring it right back on us with his annual Houston Appreciation Weekend (HAW).
On July 20th, Drake kicked off the third installment of HAW by throwing a charity barbecue at Emancipation Park in Third Ward. All it took was one tweet from Drake saying he was headed to the newly renovated park and just like that, it was packed full of people and Drake happily accommodated all. Attendees feasted off Burn's Barbecue and then washed it down with a snowball from Bahama Buck's.
There were plenty of activities for kids to enjoy like balloon animals and moonwalks. It was a typical summer afternoon in Houston as children swam in the pool, rode bikes, and danced to music. And in usual fashion Drake came with gifts for the crowd. Students heading back to school next month received school supplies and well wishes for an awesome school year from the rapper.
From Emancipation Park, Drake headed to another park, NRG Park to the NRG Stadium to watch the Manchester Derby, where he delivered the match ball. While at the Manchester Derby, Drake posed for a photo-op with J.J. Watt and girlfriend, Kealia Ohae.
Drake began Houston Appreciation Weekend in 2014. The rapper credits Houston as the birthplace of his career. "Someone asked me last night why I do this weekend." Drake continued, "The first time I ever came out to Houston in my life, it was because…his name is Jas Prince, he's one of the most important people in the world to me." The rapper is not shy about the love he has for the Bayou City, frequently shouting out H-Town in his music.
Lil Wayne, Jas Prince, and several artists from Drake's label, OVO, hosted events throughout the weekend. Drake officially closed out the HAW 2017 with a show stopping performance at Spire Nightclub in Midtown.
Houston definitely showed Drake a good time as you can see by his posts via Instagram. For more information on Houston Appreciation Weekend, visit HAW2017.com