Trae Tha Truth Brings Out Hot Celebs for Trae Day 10 Year Anniversary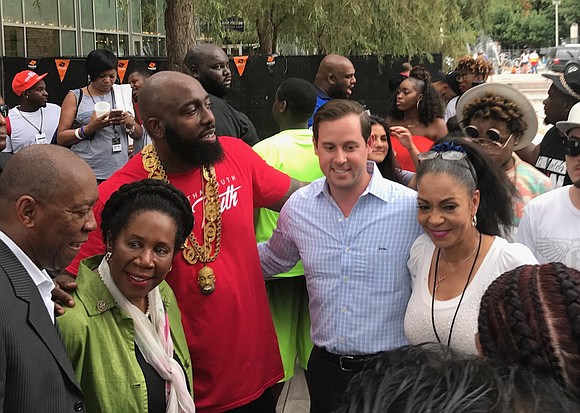 The hottest celebrities were at Houston's Discovery Green Park on this past Saturday for a great cause hosted by Houston rapper Trae Tha Truth as he celebrated the 10 year anniversary of Trae Day. Families lined up early for a chance to see their favorite celebs and enjoy free entertainment sponsored by the entertainer.
No child was deprived of a good time at Trae Day as there were several activities for them to enjoy such as playing with inflatable camels, horseback riding, rock climbing, sledding, bungee jumping, and getting close to animals at the petting zoo. ABC Dental added to the young crowd's entertainment with face painting, and arts and crafts. Trae's non-profit organization, Angel by Nature, along with the Houston Public Library joined together to give out 75 scholarships to students to pursue their higher education. Funds came via the library's Hip-Hop for Literacy program. Students also received free school supplies to start them off in a good way this fall.
AIDS Healthcare Foundation provided free on-site HIV testing, which several adults used at their convenience since results were available in only 1 minute. The Kyssi Andrews Foundation for Pediatric Cancer was also out raising awareness about their organization.

Fans crowded the park's stage to watch several performances by local artists throughout the day. DJ Mankind entertained the audience with live mixes in between performances.
The highlight of the evening was when Trae Tha Truth and his celebrity guests arrived on stage. Fans were surprised to see Nick Cannon, singer Mya, rapper Chamillionaire, rapper Dave East, Ceasar from Black Ink, comedian Tony Rock, comedian Affion Crockett, All Eyez On Me star Demetrius Shipp Jr., Simone Biles and many others talk about their support for Trae Day.
Energy increased at the event when O.T. Genasis, DJ Luke Nasty and DJ XO performed their popular songs "Push It," "Might Be," "I'm On the Way," and "Off the Lot."
Even social media favorites Officer Norman, Hahadavis, and Teresa Topnotch showed up to support Trae.
"It was great, it was great, if you weren't here, what was wrong with you?" Teresa Joked.
Trae gave away watches, shoes, and Trae the Truth Bumpboxx Radios to some of the younger audience members.
Of course, Trae Day couldn't come to a close without Mayor Sylvester Turner and Congresswoman Sheila Jackson Lee making an appearance and to say thank you to Trae for hosting such a wonderful event.
"Trae has a huge heart, so we just came out to show our support and to say thank you Trae for just being who you are," Mayor Turner said.
History of Trae Day
Trae Day started in 2008 when former Mayor of Houston Bill White and Council Member Peter Brown deemed July 22 "Trae Day" to recognize the rapper's contributions to the City. This was the first time in Houston history that a day had been signified to honor a rap artist.
Former Houston Community Outreach Director Kathryn Griffin Grinan said the idea of Trae Day came about that year after the rapper treated youth of the "No More Victims" program to a special dinner. It was then suggested to Council Member Peter Brown at the time that Trae be recognized with his own day.
Angel by Nature
Angel by Nature is Trae's non-profit organization that is geared toward supporting underprivileged youth. The organization offers activities and programs that encourage peaceful ways for youth to combat peer pressure and bullying. It also encourages youth to pursue higher education.
Angel by Nature supports Houston's "Stop the Violence" Campaign.