Bagwell Inducted Into Baseball Hall of Fame Today
Became second player ever to go into the Hall as a member of the Houston Astros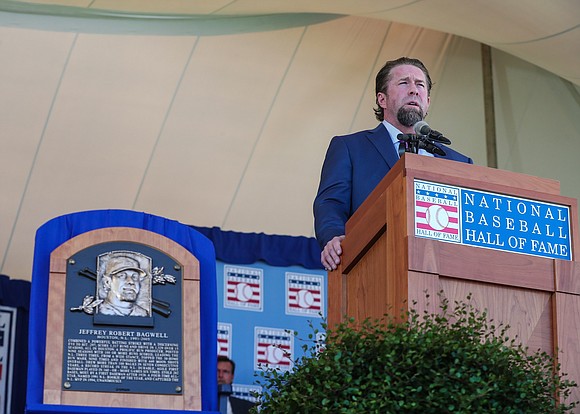 COOPERSTOWN, NY - On January 18, the National Baseball Hall of Fame and Museum officially announced that former Astros All-Star first baseman Jeff Bagwell would be a part of the Hall's Class of 2017. This afternoon in Cooperstown, NY, that became a reality as Bagwell was officially inducted into the Hall of Fame along with Tim Raines and Ivan Rodriguez. He is the second player to go into the Hall as a member of the Houston Astros, joining former teammate Craig Biggio, who was inducted in 2015.
Sunday's ceremony was held at the Clark Sports Center in Cooperstown at an outdoor location about one mile from the National Baseball Hall of Fame. More than 50 Hall of Famers returned to Cooperstown for the ceremony along with thousands of fans, many of whom made the journey from the Houston area for Bagwell's historic moment. Biggio, Astros Owner and Chairman Jim Crane, General Manager Jeff Luhnow, President of Business Operations Reid Ryan, Nolan Ryan, Phil Garner, Enos Cabell, Matt Galante, Larry Dierker, Jose Cruz, Moises Alou and Bill Brown were among the large Astros contingent in Cooperstown this weekend as well.
The Hall's Class of 2017 also included executives John Schuerholz and Bud Selig. Bagwell earned his place in baseball history in what in what was his seventh season on the ballot.
Bagwell truly was a dominant player for an extended period of his career. In addition to being an elite hitter, he was also known as a solid defender and baserunner. His career hitting statistics are among the best all-time and are superior to many other Hall of Famers.
ONE OF THE BEST EVER
During his illustrious 15-year career, all spent with the Astros, Jeff Bagwell compiled a .297 batting average with 449 home runs and 1,529 RBI while posting a .408 on-base percentage and a .540 slugging percentage. He is the Houston franchise leader in career home runs, RBI, batting average and walks, and ranks second in club history in games,
runs, hits, doubles, total bases, on-base percentage and slugging percentage.
His .948 career OPS ranks 10th all-time among right-handed hitters and 20th all-time among all hitters. Also, notably, Bagwell played nine of his 15 seasons in the pitcher-friendly Astrodome. A versatile player, Bagwell was considered an outstanding baserunner and defender. He remains the only first baseman in NL history to reach the 30-30 club in home runs and stolen bases in a single season, which he did twice in his career. He also was a Gold Glove winner and currently ranks 3rd all-time in career assists as a first baseman with 1,704.
During his 15 seasons, the Astros had their most successful run in franchise history, qualifying for the postseason six times while finishing at .500 or above 13 times. The Astros had the third-best winning percentage (.531) in the NL from 1991-2005.
In 1994, Bagwell became just the third player in history to win the NL Most Valuable Player Award by a unanimous vote after hitting .368 with 39 home runs, 116 RBI, a .750 slugging percentage, .451 on-base percentage and a career-high 1.201 OPS in just 110 games. Bagwell was a four-time All-Star, earned three Silver Slugger Awards, a Rawlings Gold Glove Award and was the NL Rookie of the Year in 1991.