Bagwell Inducted Into Baseball Hall of Fame Today
Became second player ever to go into the Hall as a member of the Houston Astros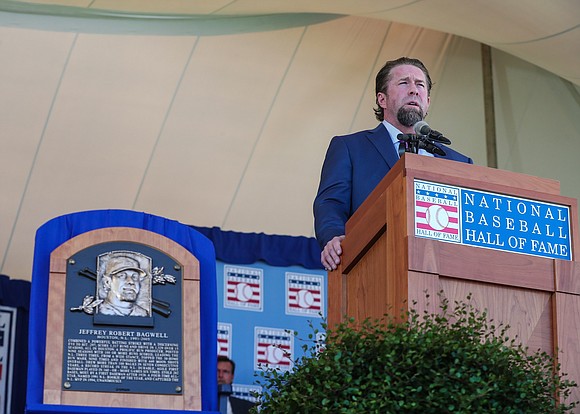 COOPERSTOWN, NY - On January 18, the National Baseball Hall of Fame and Museum officially announced that former Astros All-Star first baseman Jeff Bagwell would be a part of the Hall's Class of 2017. This afternoon in Cooperstown, NY, that became a reality as Bagwell was officially inducted into the Hall of Fame along with Tim Raines and Ivan Rodriguez. He is the second player to go into the Hall as a member of the Houston Astros, joining former teammate Craig Biggio, who was inducted in 2015.
Sunday's ceremony was held at the Clark Sports Center in Cooperstown at an outdoor location about one mile from the National Baseball Hall of Fame. More than 50 Hall of Famers returned to Cooperstown for the ceremony along with thousands of fans, many of whom made the journey from the Houston area for Bagwell's historic moment. Biggio, Astros Owner and Chairman Jim Crane, General Manager Jeff Luhnow, President of Business Operations Reid Ryan, Nolan Ryan, Phil Garner, Enos Cabell, Matt Galante, Larry Dierker, Jose Cruz, Moises Alou and Bill Brown were among the large Astros contingent in Cooperstown this weekend as well.
The Hall's Class of 2017 also included executives John Schuerholz and Bud Selig. Bagwell earned his place in baseball history in what in what was his seventh season on the ballot.
Bagwell truly was a dominant player for an extended period of his career. In addition to being an elite hitter, he was also known as a solid defender and baserunner. His career hitting statistics are among the best all-time and are superior to many other Hall of Famers.
ONE OF THE BEST EVER
During his illustrious 15-year career, all spent with the Astros, Jeff Bagwell compiled a .297 batting average with 449 home runs and 1,529 RBI while posting a .408 on-base percentage and a .540 slugging percentage. He is the Houston franchise leader in career home runs, RBI, batting average and walks, and ranks second in club history in games,
runs, hits, doubles, total bases, on-base percentage and slugging percentage.
His .948 career OPS ranks 10th all-time among right-handed hitters and 20th all-time among all hitters. Also, notably, Bagwell played nine of his 15 seasons in the pitcher-friendly Astrodome. A versatile player, Bagwell was considered an outstanding baserunner and defender. He remains the only first baseman in NL history to reach the 30-30 club in home runs and stolen bases in a single season, which he did twice in his career. He also was a Gold Glove winner and currently ranks 3rd all-time in career assists as a first baseman with 1,704.
During his 15 seasons, the Astros had their most successful run in franchise history, qualifying for the postseason six times while finishing at .500 or above 13 times. The Astros had the third-best winning percentage (.531) in the NL from 1991-2005.
In 1994, Bagwell became just the third player in history to win the NL Most Valuable Player Award by a unanimous vote after hitting .368 with 39 home runs, 116 RBI, a .750 slugging percentage, .451 on-base percentage and a career-high 1.201 OPS in just 110 games. Bagwell was a four-time All-Star, earned three Silver Slugger Awards, a Rawlings Gold Glove Award and was the NL Rookie of the Year in 1991.
THE TRADE
On August 31, 1990, the Astros acquired a little-known, minor league third baseman named Jeff Bagwell from the Boston Red Sox in exchange for reliever Larry Andersen. At the time, most likely no one in baseball could have known that this trade would go down as one of the most famous deals in Major League history.
In Spring Training of 1991, the Astros moved Bagwell from third base to first base. Bagwell would make the Major League club out of camp and then go on to earn NL Rookie of the Year honors. By 1994, he would become the first player in franchise history to be named Most Valuable Player. The rest is history.
BAGWELL BY THE NUMBERS
.948 career OPS ranks 20th in Major League history and 10th among right-handed hitters (min. 6000 PA).
.408 career on-base percentage ranks T-14th all-time among right-handed hitters and 10th all-time among first basemen (4th among RHH first basemen).
One of just 11 players in baseball history to hit at least 400 home runs while compiling a .408-or-higher on-base percentage.
Only player in history to record 30 home runs, 100 RBI, 100 runs scored and 100 walks in six consecutive seasons (1996-2001).
Only first baseman in NL history to reach the 30-30 club in home runs and stolen bases, and the only first baseman in ML history to reach this milestone twice in a career.
Ranks 3rd all-time in career assists by a first baseman with 1,704.
One of 25 players in Major League history to win both the Rookie of the Year (1991) and Most Valuable Player (1994) awards.
Only first baseman in ML history and one of 13 players all-time to reach 400 home runs and 200 stolen bases.
One of six players in history to collect 30 home runs, 100 RBI and 100 runs scored in six consecutive seasons (1996-2001). Jimmie Foxx, Lou Gehrig, Babe Ruth, Alex Rodriguez and Albert Pujols are the others.
.297 career average ranks 19th all-time among players with 400 home runs, and 11th all-time among right-handed hitters with 400 home runs.
Registered an OPS above 1.000 in five different seasons.
Played 162 games in a season four times in his career; played 156 or more games in a season nine times.
Led NL first basemen in assists five times.
ACCOLADES
NL Rookie of the Year in 1991.
NL MVP in 1994. Third NL MVP ever by a unanimous vote.
Four-time All-Star.
Three Silver Slugger Awards.
NL Gold Glove Award in 1994.
Five-time NL Player of the Month winner; Six-time NL Player of the Week winner.
BAGWELL AMONGST HIS PEERS (1991-2005)
1,529 RBI ranked second in the Majors and first among right-handed hitters.
1,517 runs scored ranked third in the Majors.
Ranked third in the Majors in hits (2,314), walks (1,401) and extra-base hits (969).
Ranked fifth in the Majors in home runs (449) and games played (2,150).
Reached 100 RBI eight times, 100 runs scored nine times, 30 home runs eight times, 100 walks seven times, 1.000 OPS four times, .300 batting average six times.
Finished in the top 10 of the MVP voting five times.
SOLID DECADE (1994-2003)
From 1994-2003, led all first basemen in hits, runs, walks, extra-base hits, doubles and stolen bases, ranked second in games and RBI and third in home runs.
ADVANCED STATISTICS
Using Baseball Reference's Wins Above Replacement metric, Bagwell ranks ahead of many Hall of Famers with his 79.6 Wins Above Replacement for his career (ranks 35th all-time among all players). An average Hall of Fame first baseman has a 57.6 WAR.
Bagwell rates as a 59 on Bill James' Hall of Fame Standards, which determines how well a player's career statistics match up to the typical standards of a Hall of Famer. A score of 50 represents the career of an average Hall of Fame hitter.
A LASTING IMPRESSION
In addition to being one of the truly elite players of his era, Bagwell was also one of the most respected players of his era. Below are comments from many of his teammates, peers and others:
"Jeff was an amazing player and a very special guy to play with. He put up incredible numbers offensively, but he was also a smart player, a really good defensive player, a great baserunner and he played the game the right way. I'm so very proud to have played with him for so many years. We were able to change the culture in Houston. Our goal was to win, and Baggy was a major reason for our success. Congrats, my friend. I cannot say how elated I am for you and your family. This is a day you will never forget. Enjoy every minute of it."
-Astros Hall of Famer Craig Biggio, Bagwell's teammate in Houston for 15 seasons
"This is long overdue. Jeff is one of the top, three or four players that I ever played with or against. When I think of Baggy, I think of two things. The first is 'professional.' He came to play every day and never took an at-bat off. You can't say that about everyone. The second thing I think of is what a complete player he was. He was an amazing fielder and baserunner and had an innate grasp of the fine nuances of the game. He was the total baseball player."
-Astros teammate Lance Berkman
"Jeff played hard every day, and played the game the way it was supposed to be played. He was one of the greatest players of his era!"
-Astros Executive Advisor and Hall of Fame pitcher Nolan Ryan
"Baggy's career reaches far beyond the Hall. He was a fantastic teammate. Congrats, #5! Oh yeah!"
-Former teammate and Seven-time Cy Young winner Roger Clemens
"Baggy had a huge influence on me as a player. He wasn't really outspoken in the clubhouse or on the field but he spoke volumes with how he played. His respect for the game and teammates was exemplified by how hard he played every day."
-Former teammate and current Astros broadcaster Geoff Blum
"On behalf of the Astros organization, I'd like to congratulate Jeff Bagwell. When Jeff played here, a sign was posted in the weight room that read 'Bagwell's Gym, Work Hard, Play Hard or Leave.' That reveals a great deal about what he was all about. Throughout his career, Jeff worked extremely hard to become a great player. He was a winner and an outstanding representative of the Houston Astros and of the City of Houston. We were thrilled when Craig Biggio was voted into the Hall two years ago, and now we are ecstatic that Jeff will be joining him."
-Astros Owner and Chairman Jim Crane
"This is so great for Jeff Bagwell, the Astros organization and Astros fans everywhere . Jeff's numbers stand alone. He played the game with grit, determination and a drive to win that few players ever know. This Hall of Fame induction is the fitting tribute to one of the game's great players. Congrats, Baggy, on a well-deserved honor."
-Astros President of Business Operations Reid Ryan
"I'm so happy and proud for Baggy, our organization, and the fans who loved watching him play. His career was more than Hall of Fame caliber and to see him recognized alongside the greats or our game is simply awesome. Congrats, Baggy!"
-Astros manager AJ Hinch
"The Hall of Fame often focuses heavily on offensive statistics to determine worthiness. Baggy was much more than his great run-producing statistics. He was a great base runner, Gold Glove defender, and an All-Star teammate. He is the complete Hall of Fame player. I couldn't be happier for him."
-Former teammate and current Detroit Tigers manager Brad Ausmus
"Congrats to Bags and his family on being elected to the Hall of Fame today. I got to know Jeff over the first few years of my career and always appreciated the way he played the game. He was a true leader who earned the respect of his opponents as well as his teammates. Congrats, brother, you've earned it."
-All-Star first baseman Albert Pujols
"Jeff Bagwell stood out as the complete player. He provided power, on-base average and timely hits. He also ran the bases in expert fashion and fielded with the utmost skill, attempting plays that other first basemen could not make. He was one of the most intelligent players in the game. He was the complete package."
-Longtime Astros broadcaster Bill Brown, who called all of Bagwell's 15 seasons in Houston
"Jeff was one of the best players in the game for many years and is very deserving of joining this exclusive club. The Astros are blessed to have two Hall of Famers play their entire careers with the same team in the same era."
-Astros General Manager Jeff Luhnow