Dr. Myla Bennett, Board Certified Plastic Surgeon, & Philmore Academy Private School Partner To Build Leadership & Self Worth In Youth
Dr. Myla Bennett and the Preserve Your Pretty® Campaign will focus on increasing the self esteem of youth across the nation.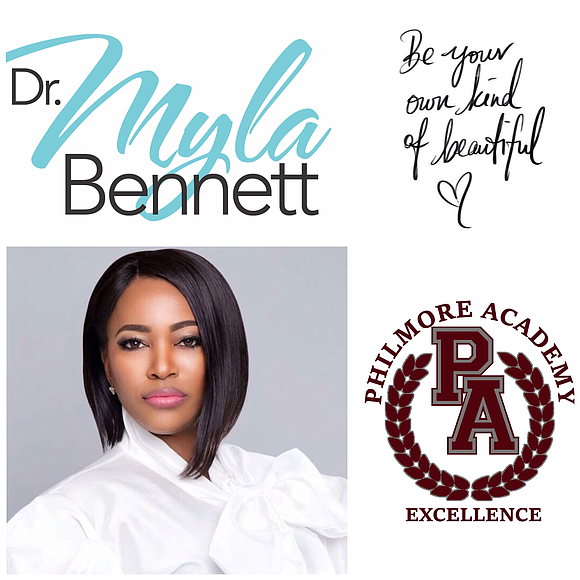 Atlanta, GA - July 31, 2017 - Board certified plastic surgeon, business coach, and professional empowerment speaker Dr. Myla Bennett entered into a partnership with one of Atlanta's top learning institutions, Philmore Academy Private School. The partnership will continue to bring awareness to the Preserve Your Pretty® campaign by educating students to understand that being "pretty" is not just a physical attribute. Philmore Academy Private School wants students to understand that everyone is beautiful in their own right; they are the only one's who can define their beauty and not others. On every third Tuesday beginning in September, continuing through May, Dr. Myla's monthly topics will be centered around loving yourself, positive self-talk, discovering your inner beauty, embracing your imperfections and more. The school's goal is to eventually make this an ongoing partnership in the years to come as well as adding an additional component where Dr. Myla is able to become a resource and mentor to the STEM BioMedical classes.
Philmore Academy Private School is Georgia's first, single sex, co-ed private school using single gender, research based approaches for learning, to ensure the success of all students. The school's teachers and administrators, serve as strong role models to help students discover their strengths and leadership opportunities from the first year forward. Students are provided hands-on practice crucial to self-confidence, and leadership development required for global leadership. When students complete their PA education, they will understand who they are and will be ready to thrive in mixed-gender educational, career, and social settings. As a women of prestige, beauty and power, Dr. Myla Bennett is a true reflection of today's ultimate role model.
"It's an honor to be recognized and to be chosen as a leadership advisor to tomorrow's leaders," Dr. Myla Bennett said. "I am excited to educate young people about loving themselves unconditionally through my Preserve Your Pretty® campaign."
Defying all odds, Dr. Myla Bennett has become one of the most sought after female plastic surgeons on the East Coast. She is a graduate of The Ohio State University Medical Center and has been featured in both national and international publications and networks including: JET Magazine, NBC, Black Enterprise, Bravo Television Network, Radio One, WEtv, and many more. Dr. Myla Bennett is the owner of Ederra Bella Plastic Surgery and Medical Spa®, and the founder of both the Preserve Your Pretty® and Preserve Your Handsome™ brands. She has had the opportunity to work with celebrity and influential clients throughout her career.
"I feel that Dr. Myla is the perfect fit for our school's Leadership and Loving You sessions because she shares the vision that we do; that true beauty should come from within and not from the things that you wear or changes to your body", stated Sherrie Raymore, Founder & President of Philmore Academy Private School. "My belief and teaching to all of our students is that they define what beauty is and to always be their own kind of beautiful."