Project Lead The Way and Verizon Take Major Step in Expanding Access to Computer Science Education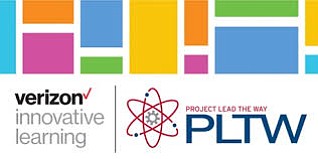 Students in more than 150 middle schools across the U.S. will have access to computer science courses for the first time, thanks to more than $3 million in grant funding made possible by a partnership between Verizon and Project Lead The Way (PLTW).
This is an expansion of an initial $5 million partnership that began in 2014 between the two organizations to expand students' access to computer science curriculum and help students develop the in-demand knowledge and skills they need to succeed in the rapidly advancing, technology-based economy.

Since 2014, the partnership has resulted in more than 240 schools across 36 states offering PLTW's high-quality computer science curriculum. More than 28,000 students – a majority of whom are female and under-represented minorities – have had the opportunity to develop in-demand computer science knowledge and skills. Students have developed more than 77,000 apps to solve real-world problems and tackle challenges faced in their communities, learned digital citizenship, and strengthened their critical thinking, collaboration, and communication skills.
"We are living in a thriving digital economy that will continue to grow, and many jobs of the future will be rooted in science, technology, engineering and math," says Justina Nixon-Saintil, education director for the Verizon Foundation. "We need more students to have access to technology and the skills they need to be prepared for success in these career fields. Partners like Project Lead The Way help us bring this mission to fruition."
"The U.S. Bureau of Labor Statistics estimates more than 1.3 million open positions in computer- and math-related fields by 2022, with computer science skills needed in more than 180 industries from auto repair to health care. Yet too few schools offer quality computer science education," said PLTW President and Chief Executive Officer Dr. Vince Bertram. "In partnership with Verizon, we can make an impact on the number of students who have access to high-quality computer science education and will be prepared for these growing career opportunities."
PLTW's middle school computer science units – App Creators and Computer Science for Innovators and Makers – are part of PLTW's K-12 Computer Science pathway and are built on PLTW's hands-on, project-based instructional approach. The units provide an opportunity for students to experience computer science in a relevant and engaging way, empowering them to solve problems using the powerful ideas behind computational thinking and setting them up for further computer science learning via PLTW's 4-year Computer Science program in high school.
The application for grant funding is currently open at https://www.pltw.org/experience-pltw/funding-and-grant-opportunities. Eligible schools must apply by April 15. Selected schools will implement at least one PLTW middle school computer science unit in 2017-18, and a second unit for the 2018-19 school year. Grant funds will also support teacher professional development and provide for classroom equipment including tablets and software.