5 Things for Monday, June 19: London Attack, Warship Collision, Iran, Trump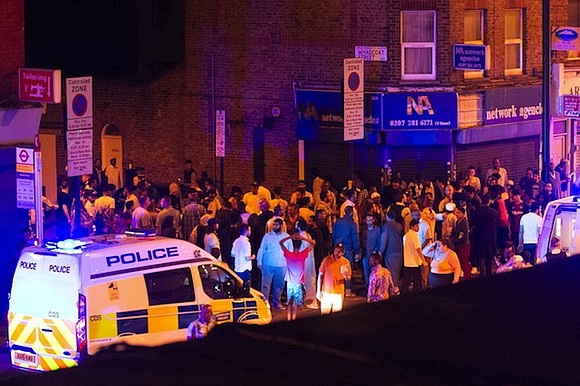 By Doug Criss
CNN
(CNN) --London wakes up to another terror attack involving a vehicle. Here's what else you need to know to Get Up to Speed and Out the Door.
1. London terror attack
There's been yet another terror attack in London. A van plowed into a crowd of worshipers who were leaving late-night prayers. One person is dead and at least 10 others are injured. It happened in the city's Finsbury Park neighborhood, home to a large Muslim community. The crowd held the attacker until police arrived. The attack again puts London on a growing list of cities in which vehicles have been used as weapons. You'll find the latest updates here.
2. Navy warship collision
The Navy's mourning the loss of seven sailors after a warship collided with a merchant vessel in Japan. The sailors were found in flooded compartments after the USS Fitzgerald, a 10,000 guided-missile destroyer, collided with the 29,000-ton container ship on Saturday. Officials aren't speculating how the incident occurred but the location -- Japan's Izu Peninsula -- sees heavy maritime traffic, with 400 to 500 vessels crossing it daily.
Also this weekend: Seven US service members were wounded in an insider attack by an Afghan soldier at a US camp in northern Afghanistan. It's the second weekend in a row when US forces have been victims of a so-called blue-on-green attack by an Afghan soldier.
3. Iran and ISIS
Iran said it would avenge the recent terror attacks on its soil. And it made good on its word over the weekend. It launched a missile attack targeting ISIS forces in eastern Syria. It's the first time Iran has fired missiles at another country in 30 years. This is a real escalation in the Syrian conflict because Iran's a big backer of the Syrian regime. So the strike helps President Bashar al-Assad too. ISIS claimed responsibility for the terror attacks almost two weeks ago on Iran's Parliament building and a shrine that left 16 people dead.
4. High-profile trials
Three trials ended over the weekend with three different outcome.
A mistrial: The Bill Cosby case ended in a mistrial when the jury deadlocked. Prosecutors vowed to try again.
An acquittal: Officer Jeronimo Yanez was acquitted in the shooting death of Philando Castile.
A conviction: Michelle Carter was convicted of involuntary manslaughter for convincing her boyfriend via text messages to kill himself.
5. Politics
Donald Trump's lawyer Jay Sekulow says the President is not under investigation and that we should all disregard that tweet where the President said he was. Sekulow blamed it on Twitter's 140-character count limitation.
BREAKFAST BROWSE
People are talking about these. Read up. Join in.
Beyonce's babies
Let's be honest. The only news some people cared about this weekend was the birth of twins to Queen Bey and Jay-Z.
How now brown cow?
About 7% of you think chocolate milk comes from brown cows. Here's a spoiler alert -- it doesn't.
Water wonderful
Welcome to Inspiration Island, the first water park in the world designed specifically for those with disabilities.