Guns Kill Nearly 1,300 US Children Each Year, Study Says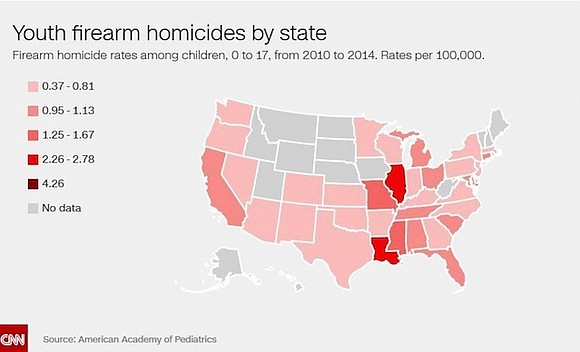 By Jacqueline Howard
CNN
(CNN) -- Rambunctious third-graders filled a classroom in Seattle on a crisp autumn day. One of the students dropped his backpack, and horror ensued.
That student had brought a parent's gun to school and was carrying it in his backpack. When the bag fell to the floor, the impact caused the gun to fire, sending a bullet straight into another student's abdomen, said Dr. Thomas Weiser, a trauma surgeon at Stanford University Medical Center.
Weiser treated that third-grader's gunshot wound while completing a fellowship at Harborview Medical Center in Washington in 2011.
When the student arrived at the hospital, awake and alert with a bullet hole oozing blood just below her heart, she had a jarring expression of confusion in her brown eyes, Weiser said.
"She kind of had this look in her eyes. It wasn't pain. ... There was obviously a little fear ... but I remember, my impression was (she had) this question: Why is this happening? She couldn't really process everything that was happening to her and around her," Weiser said. "She survived, but she had a terrible injury."
Now, a study based on data from 2012 to 2014 suggests that, on average, 5,790 children in the United States receive medical treatment in an emergency room each year for a gun-related injury. About 21% of those injuries are unintentional, similar to the third-grader's case.
From 2012 to 2014, on average, 1,297 children died annually from a gun-related injury in the US, according to the study, published in the journal Pediatrics on Monday.
The study also revealed which states in the US saw most of those deaths among children and which children may be most at risk for a gun-related injury.
"When you start putting numbers like that to real lives, real people every day who are injured by firearms ... it confirms a statistic we already know a lot about," said Weiser, who was not involved in the study.
Doctors also emphasize that there are methods available to safely secure and store firearms, away from children, and they recommend that parents employ those methods when keeping guns in the home.
Boys and guns
The researchers examined national data on fatal firearm injuries from death certificates in the Centers for Disease Control and Prevention's National Vital Statistics System database.
For nonfatal firearm injuries, the researchers examined data from the US Consumer Product Safety Commission's National Electronic Injury Surveillance System database.
Specifically looking at deaths and injuries among children up to age 17, the researchers analyzed the data for trends that may have occurred from 2002 to 2014.
They found that, among the deaths, 53% were homicides, 38% were suicides, 6% were unintentional, and 3% were related to law enforcement or undetermined. Among the injuries, 71% were assault, 21% were unintentional, 5% were related to law enforcement or undetermined, and about 3% were from self-harm.
As for unintentional firearm injuries, Weiser said, the third-grade girl he treated was not the only accidental gunshot wound he saw in a child. Another such injury involved a boy around 9 who was given a handgun for his birthday.