Jews, Christians and Muslims Make Holy Ground in America's Heartland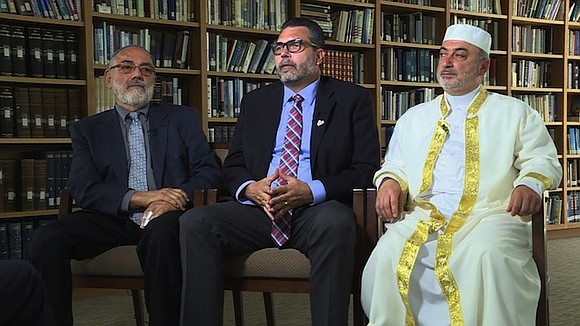 By Dan Simon
CNN
OMAHA, Nebraska (CNN) -- When most people think of Omaha, they imagine sizzling steaks, billionaire Warren Buffet or even former NFL quarterback Peyton Manning calling out before the snap. (Remember "Omaha-Omaha"?).
But if a group of clergymen have their way, Nebraska's largest city will soon also be known as the home of interfaith dialogue and peacebuilding.
A rabbi, a reverend and an imam (no, it's not a setup joke) are partners in a decadelong quest to bring together the three Abrahamic faiths -- Judaism, Christianity and Islam -- to share and worship on the same property.
It's called Tri-Faith Initiative.
The $65 million project, launched in 2006 and funded through donations, may be the first time in US history that the three faiths intentionally build their houses of worship side by side.
"We didn't create this (project) to tolerate each other. We didn't create this just to have a dialogue," explained Rabbi Aryeh Azriel, the former senior rabbi at Omaha's Temple Israel, whose vision helped drive the project.
"We have done all this stuff already. It's about what are we going to do together. What are we going to do for the betterment of humanity?"
The location chosen for the sacred endeavor is the old golf course of Highland Country Club, a "Jewish Club" developed in the 1920s when Jews were excluded from other clubs in in the city and around the country.
Today, a new synagogue and mosque stand tall on the abandoned greens and fairways. And construction crews are readying to build a new church.
Further plans include a Tri-Faith Center, which will be completed in 2019 and serve as a shared community space for interfaith classes and activities.
"The Tri-Faith Center will be a place to act, learn and gather," says a project brochure. "We will promote policies protecting religions and democracies, and unite our diverse voices to challenge extremism."
The developers say they're excited for what the future holds. They're also proud that a land once formed out of division, has now become a symbol of religious tolerance.
For Jews, a 'taste of paradise'
Temple Israel's new synagogue opened in 2013 and cost more than $21 million to complete. The first of the Tri-Faith project, it's a modern, 58,000-square foot building that features hand-cut stone imported from Jerusalem, a symbol of the Reform congregation's connection to the Holy Land.
"If you can't create peace in the Middle East -- what about Omaha?" quipped Rabbi Azriel, 67, a polio survivor from Israel.
He likes to share a story from one of his congregants who was initially apprehensive about sharing land with Muslims. The man, who would later become a donor, privately expressed fears about Islamic extremists attacking the synagogue. "What if there's a live hand grenade rolled in the middle of the aisle during the high holidays," the man asked.
The rabbi answered there were two options. "One is to run away. But as a polio survivor, I can't run far away," he said with a mix of sarcasm. "The other one is for me to fall on it."