Missing Sailors Found Dead in Flooded Compartments On US Navy Destroyer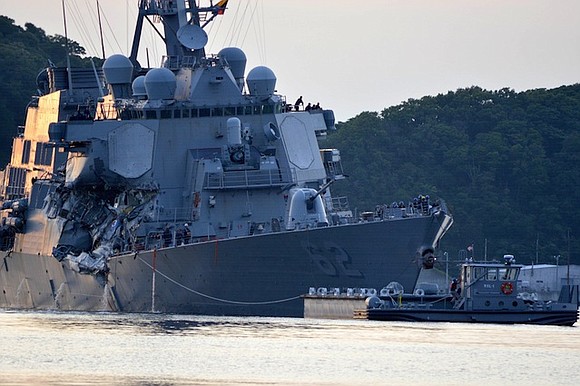 By Brad Lendon, Barbara Starr and Steve Almasy
CNN
(CNN) -- Seven missing sailors from the USS Fitzgerald were found dead in flooded berthing compartments following the warship's collision with a merchant vessel, a US military official said.
The Navy's 7th Fleet said searchers found the bodies Sunday morning, Japan time, after the guided-missile destroyer returned to its base in Japan.
"This loss is something we all feel," Vice Adm. Joseph Aucoin, commander of the US 7th Fleet, told reporters alongside the ship at Yokosuka Naval Base in Japan Sunday.
"We have found a number of the remains ... of our missing shipmates, and our deepest sympathies go out to the families of those shipmates," he said.
The Navy on Sunday released sailors' names. The deceased sailors are:
-- Gunner's Mate Seaman Dakota Kyle Rigsby, 19, from Palmyra, Virginia
-- Yeoman 3rd Class Shingo Alexander Douglass, 25, from San Diego
-- Sonar Technician 3rd Class Ngoc T Truong Huynh, 25, from Oakville, Connecticut
-- Gunner's Mate 2nd Class Noe Hernandez, 26, from Weslaco, Texas
-- Fire Controlman 2nd Class Carlos Victor Ganzon Sibayan, 23, from Chula Vista, California
-- Personnel Specialist 1st Class Xavier Alec Martin, 24, from Halethorpe, Maryland
-- Fire Controlman 1st Class Gary Leo Rehm Jr., 37, from Elyria, Ohio
The admiral's comments Sunday indicated the loss of life could have been much worse.
"There was a big puncture, a big gash underneath the waterline" along the bottom of the ship, Aucoin said.
The water flow into compartments that were berthing areas for 116 of the ship's crew was "tremendous", he said, adding that "there wasn't a lot of time in those spaces that were open to the sea."
Aucoin said the cabin of the Fitzgerald's captain, Cmdr. Bryce Benson, was completely destroyed. "He's lucky to be alive," he added.
Benson was flown off the crippled ship by helicopter after the accident and was being treated at the naval hospital at Yokosuka, according to Aucoin, as were two other sailors who were medevaced.
Crew saved ship from sinking
The admiral said the ship had been in danger of sinking but was saved by the "heroic efforts" of the crew.
"The crew had to fight very hard to keep the ship afloat," he said.
The 10,000-ton guided-missile destroyer and the ACX Crystal, a 29,000-ton container ship flagged in the Philippines, collided early Saturday local time off Japan's Izu Peninsula, officials said. The area sees heavy maritime traffic, with 400 to 500 vessels crossing it daily.
The destroyer suffered severe damage to its starboard side, while the container ship sustained light damage.
While photos showed serious damage above the waterline, the container ship also did severe damage below it.
A 7th Fleet statement said the collision did "significant damage and associated flooding to two berthing spaces, a machinery space, and the radio room."
Container ships like the Crystal have bulbous bows under the waterline and that portion of the cargo vessel plowed into the US warship.