Sprite Announces "Summer Sprite Cold Lyrics Series" Featuring Vince Staples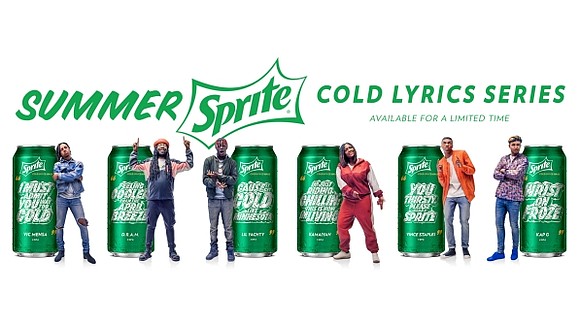 June 19, 2017 – Sprite® is helping fans stay cool and refreshed this summer with the Summer Sprite™ Cold Lyrics Series™ featuring cold-inspired lyrics from six of the hottest rappers in the game.
To remind fans how cool, crisp, refreshing and delicious Sprite is during the most scorching days of summer, limited-edition Sprite packaging will display six existing lyrics from a talented roster of artists: Vince Staples, Lil Yachty, DRAM, Vic Mensa, Kamaiyah and Kap G. Each artist was chosen by Sprite because of their unique perspective and reputation for staying true to themselves.
"Sprite was one of the first brands ever to recognize the power of hip-hop more than 30 years ago. It has always celebrated authenticity and collaborated with a variety of emerging, established and legendary artists," said Bobby Oliver, director, Sprite & Citrus Brands, Coca-Cola North America. "This year, the Summer Sprite Cold Lyrics Series is a new way for us to shine the spotlight on cool, crisp, refreshing, lemon-lime Sprite and these six incredibly talented artists who are making their own mark and represent the next generation of hip-hop stars."
The six cold lyrics will appear on 16-ounce Sprite cans and 20-ounce Sprite bottles and be available for a limited time only in convenience retail and other retail stores nationwide.
The brand will celebrate delicious lemon-lime Sprite and each of the Summer Sprite Cold Lyrics Series artists on its social channels throughout the summer by showcasing the "Sprite-sized Endorsers," which are miniature figurine versions of all six artists. In Los Angeles during the BET Experience at L.A. LIVE presented by Coca-Cola® this weekend, the "Sprite-sized Endorsers" will give fans special access to the annual entertainment fest via Sprite social channels. Fans can keep up with the social conversation by following and participating on Twitter and Instagram using the hashtag #WannaSprite.
From June 26 through August 28, fans will have the opportunity to win exciting prizes when they purchase the limited-edition Sprite cans and bottles. After each purchase, fans can log on to www.Sprite.com via mobile device and scan a photo of the 16-ounce can lyric or 20-ounce bottle cap code. With each scan, fans can earn the chance to instantly win one of more than 150 prizes each day, including custom Xbox One S consoles, drones, BMX bikes, neon signs, instant cameras, pocket DJ mixers, wireless Bluetooth speakers, and swag from Nike, GameStop, Sprite and more.
The Summer Sprite Cold Lyrics Series is the latest expression of the brand's Wanna Sprite campaign, which launched last fall. The campaign puts cool, crisp, refreshing Sprite front and center and gives a nod to what it means to be a Sprite endorser – authentic, transparent and refreshingly honest. The summer program will be supported with a robust integrated marketing campaign, including TV, outdoor, radio, digital, social and in-store advertising. The campaign was developed by Wieden + Kennedy New York.
To learn more about the Summer Sprite Cold Lyrics Series, visit www.coca-colacompany.com/summersprite.