Trump Defiant as Pressure Grows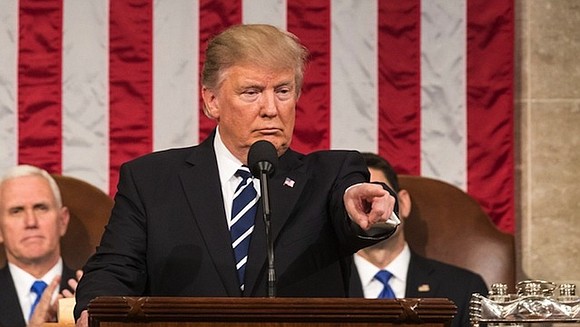 By Stephen Collinson
CNN
WASHINGTON (CNN) -- America is edging ever closer to a new long, national nightmare, given President Donald Trump's explosive response to signs that special counsel Robert Mueller is approaching the epicenter of White House power.
The investigation has taken a serious turn in recent days, raising the clear possibility that whether Mueller finds wrongdoing or not, a period of political stress and upheaval is inevitable.
Trump appears willing to test the bounds of convention and his own powers against a legal and political establishment that he believes is conspiring against him. The higher the pressure, the more defiant the President becomes -- even if it puts him at odds with his legal team.
Trump has decided that "this is a political fight and he's going to fight it," a White House official told CNN's Jeff Zeleny.
But the sense of chaos around the White House is deepening. The President again called the Russia probe a "witch hunt" over the weekend while a legal adviser tried to walk back Trump's admission Friday that he is under investigation.
"The MAKE AMERICA GREAT AGAIN agenda is doing very well despite the distraction of the Witch Hunt," Trump tweeted on Sunday.
The political stakes rose significantly in recent days amid signs the probe on Russian election hacking could eventually expand to consider Trump's actions.
The President and his allies have declared open season on Mueller and Deputy Attorney General Rod Rosenstein, who is overseeing the probe.
"You are witnessing the single greatest WITCH HUNT in American political history - led by some very bad and conflicted people! #MAGA." Trump said in a tweet last week that signified an attempt to undermine both men.
The tweet sparked speculation that Trump may pull a nuclear option by firing Mueller and Rosenstein, a move senior aides have fervently advised against -- given that it could provoke a constitutional crisis.
"It looks like we have got a simmering tea kettle here, and the President seems to be testing the waters about whether he ought to go ahead and fire Robert Mueller," said Richard Ben-Veniste, a former Watergate prosecutor who is now a CNN legal analyst.
"You don't mess with the criminal justice system in this way ... the President is on very tenuous ground here," Ben-Veniste told CNN's Don Lemon Friday.
The scorched-earth approach may have grave political consequences.
Trump and his aides may well end up in the clear, but months of recriminations ahead will further polarize the capital and cast a shadow over his administration, which is already struggling for traction after a tumultuous first five months.
If Mueller decides there is a case to answer for either the President or his aides in the issue of alleged collusion with Russia or over a potential cover-up, the political uproar will be incalculable.
At best, it could further complicate Trump's efforts to pass a meaningful legislative agenda and ultimately his hopes of a successful presidency.
At worst, it could force the nation to confront a third debate on whether to remove an elected President in just 45 years. The lessons of history suggest such traumas raise questions of political legitimacy and constitutional process that have the potential to sour life in Washington for years in the future.