Money & Marriage: The Real Cost Behind Getting Married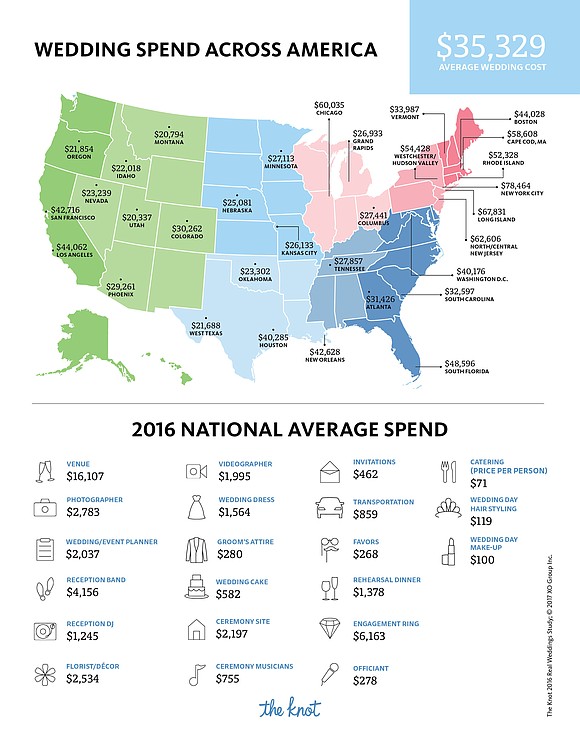 Wedding Season is upon us and we have watched so many couples that are young and old take the plunge to wedded bliss! Behind all those lavish weddings are hefty price tags. If you don't know wedding are big business and can have couples taking out a loan to fund it if they fail to plan and don't stick to a budget.
Approximately 2.3 million couples wed every year in the US. That's a lot of love and lot of money being spent on that love. Here are a few interesting facts on the cost of getting married today as reported by U.S. Census via SoundVision. com.
Important Texas Wedding Budget Facts and Figures (Source: TheKnot.com)
Turns out that marriage rates in the state of Texas are above average at 7.1 per 1,000 people. Hundreds of Texas couples responded to the 2015 Real Weddings Survey and they revealed interesting insights into wedding budgets. Getting married in Texas can either be quite expensive or quite affordable depending on where you get hitched and how you approach the process.
The best way to approach this process is to have an open, be flexible, and stick to your budget. Unfortunately for Houstonians, our city is one of the most expensive to marry. It's due to a high proportion of black-tie weddings. The average wedding cost in Houston in 2016 was $30,974. Yes, we fancy!
Even though it may be expensive to marry Houston there are still ways to save come change. You can save money by taking on some DIY Pinerest projects or hiring a wedding planner like I did to help you negotiate contracts and create and stay on budget.
The money behind the marriage
• $72 billion per year is spent on weddings
• The average wedding budget is $20,000
• $1,016 is the average cost of wedding rings for the bride and groom3
• Traditionally, the father of the bride would pay for everything. Today, however, the bride and groom themselves pay for the wedding about 30 percent of the time; the bride's parents pay about 17 percent of the time. As for the rest of the time, costs are covered by different sources -- the bride and groom and one or both sets of parents, according to surveys by Bride's magazine.
• $19 billion per year is spent on wedding gift registries
• $8 billion per year is spent on honeymoons
• The average honeymoon budget is $3,657
• Over 91 percent of all to-be-weds register for gifts. The couple receives gifts from an average of 200 guests
• Most wedding guests spend between $70 and $1001 on a gift
Sources for our statistics
US Census Bureau http://www.census.gov/Press-Release/www/2003/cb03ff02.html
The Knot (http://www.theknot.com/au_industrystats.shtml),1
The Association for Wedding Professionals International (http://www.afwpi.com/wedstats)
Bride's Millennium Report: Wedding Love & Money
Bride's magazine