One Week. 52 Senators. Can Mitch McConnell Get It Done?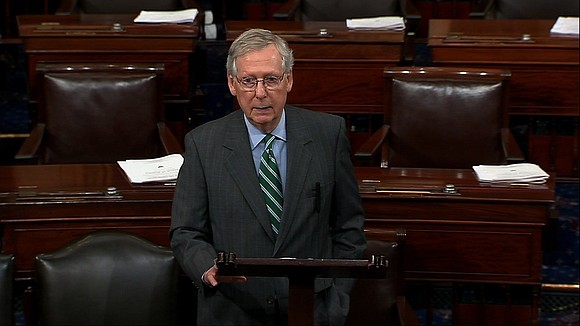 By MJ Lee and Lauren Fox
CNN
WASHINGTON (CNN) -- The math isn't there yet for Mitch McConnell.
Within hours of the Senate majority leader unveiling a long-anticipated health care bill on Thursday, four of his Republican colleagues were quick to put a damper on things: "We are not ready to vote for this bill," the group said in a joint statement.
The swift rejection may be a negotiating ploy, but the public nature of it is a reminder for McConnell of the deep reservations running through his own conference on a proposal that conservatives do not believe goes far enough to repeal Obamacare -- and the monumental challenge that lies ahead as he looks for 50 "yes" votes.
Over the next few days, McConnell needs to determine what concessions he can make to sway at least two of the four conservative senators -- but do so without losing support from the more moderate wing of the Senate, some of whom face tough re-elections next year.
Sen. Ted Cruz, who along with Sens. Rand Paul, Mike Lee and Ron Johnson said they could not support the bill in its current form, told reporters Thursday afternoon that the real negotiations have only just begun -- and suggested he would be willing to swallow elements he doesn't care for.
"Everyone's going to have to give. That's the only way you can get at least 50 out of 52 Republicans," Cruz said. "We have a very narrow majority."
But McConnell doesn't have much time.
He is aiming for a vote before members leave town ahead of the July 4 recess, giving Senate Republicans have just a handful of days to study a 142-page bill. And they will have even less time to consider the Congressional Budget Office's score of the bill -- and dramatic headlines of what it means for Americans' health care coverage -- once it's released early next week.
Many of McConnell's colleagues, however, are confident that if anyone can find 50 votes, it's their majority leader -- a political tactician who knows Senate procedure inside and out.
"Listen, I think Mitch's role is to choose to take a vote on this. I think that's what he's doing he's gone through a very exhaustive process of the input, and he's come up with a blue print that can still be amended and probably will be in reconciliation," said North Carolina Republican Sen. Richard Burr.
"If anyone can get this done, it's him," South Dakota Sen. John Thune said.
The difficult votes to win
On both the moderate and conservative sides of the party, some of the lawmakers that may be the toughest for McConnell to get to a yes are the same ones who may have to rely on his generosity for their re-elections.
Sen. Dean Heller, a Nevada moderate, is facing re-election in a swing state that expanded Medicaid. On Thursday, he was among the first to release a statement raising "serious concerns about the bill's impact on the Nevadans who depend on Medicaid."