Remembering the Life of Kelvin Keith Belcher, MD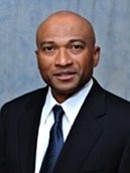 Romans 6:23 reads, "For the wages of sin [is] death; but the gift of God [is] eternal life through Jesus Christ our Lord." Kelvin Keith Belcher, MD has reached his eternal life with the Lord joining him on February 18, 2017.
Dr. Belcher departed this life on Saturday, February 18, 2017, at the age of 55 while residing in Atlanta, Georgia. He is survived by his daughter, Lauren Belcher; his parents, Leon and Mary Belcher; and his brother, Leon Belcher, II.
Kelvin Belcher was born in Gadsden Alabama on September 20, 1961 and grew up in Houston, Texas where he had a successful youth tennis career at MacGregor Park and later played professional tennis. After graduating with honors from Lamar High School and Texas Southern University, he went on to graduate from medical school at University of Texas in Houston becoming a physician in 1991. He completed a residency at University of Michigan, Ann Arbor in Radiology followed by a Fellowship in Interventional Radiology. He has practiced as an Interventional Radiologist in Washington D.C., Tampa, Florida, and in Atlanta, Georgia. Family, friends, and colleagues will miss him.
Visitation will be held on (Saturday) March 4, 2017 from 10-10:55 a.m. Funeral
Services will begin at 11:00 a.m. both services will be held at Riverside United Methodist Church at 4920 Cullen Blvd, Houston, Texas 77004. Rev. Lee Elder, Officiating Interment will follow in Houston Memorial Gardens.