United Airlines to Present at 2017 J.P. Morgan Aviation, Transportation and Industrials Conference
Live webcast available at ir.united.com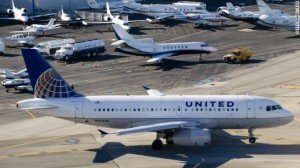 CHICAGO, March 8, 2017 – United Airlines (UAL) will present at 2017 J.P. Morgan Aviation, Transportation and Industrials Conference on Wednesday, March 15. Oscar Munoz, chief executive officer of United Airlines, will present at the conference beginning at 11:00 a.m. CDT / 12:00 p.m. EDT.
The live webcast and accompanying presentation will be available on the investor relations section of United's website at ir.united.com. The company will archive the audio webcast on the website within 24 hours of the presentation and the webcast will be available for a limited time.
About United
United Airlines and United Express operate more than 4,500 flights a day to 339 airports across five continents. In 2016, United and United Express operated more than 1.6 million flights carrying more than 143 million customers. United is proud to have the world's most comprehensive route network, including U.S. mainland hubs in Chicago, Denver, Houston, Los Angeles, New York/Newark, San Francisco and Washington, D.C. United operates 737 mainline aircraft and the airline's United Express partners operate 483 regional aircraft. The airline is a founding member of Star Alliance, which provides service to 192 countries via 28 member airlines. For more information, visit united.com, follow @United on Twitter or connect on Facebook. The common stock of United's parent, United Continental Holdings, Inc., is traded on the NYSE under the symbol "UAL".