Mexico Grand Hotels Announces The Addition of Two New Restaurants to Their Unique Dine Out Plan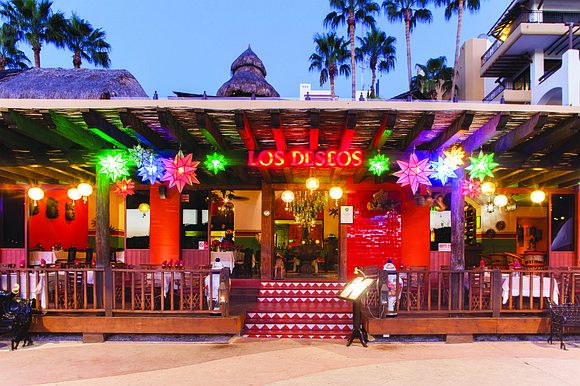 Mexico Grand Hotels is pleased to announce the addition of two new restaurants to the unique all-inclusive Dine Out Privileges Plan, offered to guests at both Hacienda Encantada and Marina Fiesta. Located on the southern tip of the Baja Peninsula, both of the hotel properties show off a unique and highly popular all-inclusive plan unlike and any other resort in the destination.
The two additional restaurants allow guests to dine off property and experience downtown Cabo San Lucas and the bustling marina area often referred to as "The Golden Zone". Setting themselves apart from any other resort in the area, the properties are now adding two additional culinary establishments to the Dine Out Privileges Plan, Los Deseos and Golden Legends, adding to the already growing list of eateries. 
Los Deseos showcases plenty from the marina's waterfront on the harbor view terrace. Mexican cuisine combined with tradition, flavor, and flair, the extensive menu offers over 35 entrées. They range from rose petal quesadillas featuring the house made coriander pesto and strawberry sauce, tampiqueña steak with sliced poblano peppers and a decadent tequila-style quest fundido - a favorite appetizer with locals and visitors alike.
Guests can visit the Golden Legends Sports Bar to watch any sports game while enjoying American style cuisine and a wide variety of beer and cocktails. The fun and exciting atmosphere offers an outstanding menu ranging from wings, all-star burgers, sandwiches, catch of the day fish & more.  
"Our Dine Out Privileges Plan is something we pride ourselves on as it is a unique offering within the all-inclusive space," Director of Sales & Marketing, Gabriel Ibarra said. "Giving this option to our guests gives us the opportunity to have our guests immerse themselves in the culture here in Los Cabos and experience a wide variety of cuisine we have to offer so we are very excited to now offer two additional eateries."
Starting rates for the Marina Fiesta with the Dine Out Privileges Plan begin at $279.00 USD. The starting rates for Hacienda Encantada with the Dine Out Privileges Plan begin at $390.00 USD. Both rates vary on room category and number of occupants.
For more information on all Golden Zone restaurants included in the plan including Baja Lobster Co., Presto, Imomo, and Sandwich Factory, visit: http://www.mexicograndhotels.com/cuisine.aspx.