Calling All Local Food and Beverage Innovators for H-E-B Primo Picks Quest for Texas Best
H-E-B leaders visit Houston to offer guidance on submitting unique products in statewide competition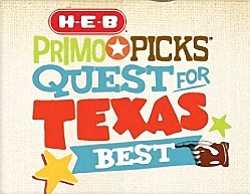 H-E-B Primo Picks Quest for Texas Best is visiting Houston on Tuesday, March 21 to share insight with local food and beverage creators interested in participating in the 2017 statewide competition. Potential entrants are invited to meet with H-E-B leaders who will advise on product development and best practices for submitting their creation in the competition. Space is limited. To register, please click here.
H-E-B Primo Picks Quest for Texas Best offers Texas-based food and beverage manufacturers the opportunity to showcase their uniquely Texan products and a chance to win a cash prize and coveted placement in select H-E-B stores throughout the state. Entrants may submit their product details online at heb.com/quest February 22 through April 5, 2017.
Since its inception in 2014, the Quest for Texas Best competition has yielded more than 136 new products on H-E-B store shelves across Texas. Last year, Kyle Texas' Chef Julie Albertson took home the Grand Prize title and $25,000 for her Texas Pie Company Original Pie Dough Puck – the secret to making the perfect, homemade pie. Houston's own Puray Patel and Aarti Garehgrat of Bagel Dots placed first in the competition taking home $20,000 and are coming soon to H-E-B shelves. In the meantime, Michael Briggs' Briggs Spicy Bacon Bourbon BBQ Sauce, a 2016 Top 25 Finalist, just hit store shelves.
To learn more about the competition or for a complete listing of cities and dates H-E-B leaders will visit throughout February and March, please visit heb.com/quest.
The event happens Tuesday, March 21; 9:30 a.m. – 11:30 a.m. at H-E-B Houston Headquarters, Windfern Training Center, 4301 Windfern Rd. ,Houston, TX 77041

REGISTER: https://2017questhouston2.eventbrite.com