Nobody Wears Wearables? GoPro, Fitbit At All-Time Lows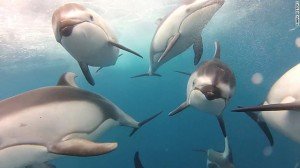 GoPro, maker of the Hero line of action cameras and Karma drone, is trading at an all-time low. So is watch and fitness tracker maker FitBit.
Shares of GoPro fell 5% Tuesday and are down 17% already this year while Fitbit was down 3% Tuesday and has plunged 25% so far in 2017.
Both companies have been viewed as one-trick -- or maybe two, tops -- ponies. They are each expected to report more losses this year and next and sluggish sales.
Goldman Sachs cut its rating on GoPro to a dreaded "sell" last week, citing concerns about weak drone sales and saturation in the action camera market.
The lackluster debut for Snapchat parent company Snap Inc., which has fallen about 15% from its opening price on its first day of trading, may not be helping either.
Snap has been trying to position itself as a camera company. In addition to its popular social media app, Snap has also been selling smart sunglasses known as Spectacles.
But despite all the gee whiz, sci-fi hype about how cool it is to have mini computers on our face or wrist, the market for wearables may never really go mainstream.
Just look at Google's Glass -- which was more the butt of jokes than a big generator of revenue.
Google parent Alphabet may launch another wearable device -- the company now has something called Project Aura -- but it remains to be seen if any new Google product will take off either.
The Apple Watch may never become a significant profit and sales source for the iPhone maker, even though there is data showing that Apple is gaining ground against Fitbit and China's Xiaomi in the market.
And remember Pebble? The once hot smartwatch maker that became popular thanks to a Kickstarter campaign is now a subsidiary of Fitbit. And Fitbit bought it last year for just $23 million. It mainly wanted the intellectual property and not the devices themselves.
Sure, virtual reality headsets like the Facebook-owned Oculus and Samsung's Gear may take off -- especially with gamers.
For more information go to http://www.cnn.com