CNN Town Hall: HHS Secretary Tom Price Caught In a Political Storm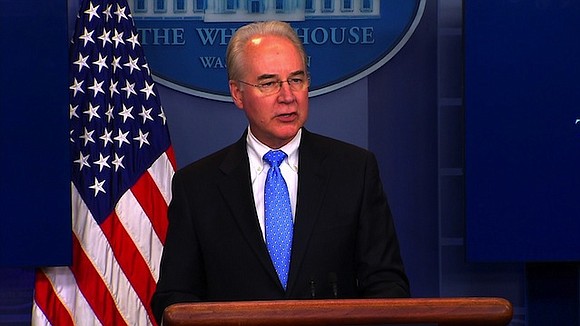 By MJ Lee
CNN National Politics Reporter
(CNN) -- Just a month into his new job, Tom Price is smack-dab in the center of a political storm.
As President Donald Trump's Health and Human Services secretary, Price -- a former congressman and a longtime critic of Obamacare -- is now responsible for selling the Republican Party's controversial new plan to overhaul the Affordable Care Act to his former colleagues and the public.
Price will participate in a special CNN town hall event Wednesday night moderated by CNN's Wolf Blitzer and Dana Bash, where he will take health care-related questions from members of the audience.
At the forefront of the fast-moving health care debate in Washington: A new analysis from the Congressional Budget Office this week that predicted that the House GOP bill to repeal Obamacare would result in some 24 million more people being uninsured by 2026 than under the current system.
The CBO report also said the proposal would cut the federal deficit and average premiums would drop after a few years, but highlighted that some of the most vulnerable demographic groups including the elderly and low-income people would face steep premium hikes.
Price, like other Trump administration officials, was quick to push back on the CBO's findings Monday.
"We disagree strenuously with the report that was put out," he said Monday, arguing that the CBO report doesn't take into account other legislative changes that Republicans have proposed.
Price has been a key player in GOP leadership's efforts to sell their House health care bill to skeptical members. A physician by training who authored an Obamacare repeal and replace bill when he was in the House, the HHS secretary has been making the rounds on Capitol Hill in recent weeks. Speaking with Republican lawmakers in both chambers, Price has sought to assuage widespread concerns about the changes to the health care system that GOP leaders are pursuing.
But that task has only grown more difficult in the aftermath of the CBO report. Moderate Republicans have grown even more wary of supporting a House bill that would lead to millions losing coverage -- particularly as it appears to have no chance of getting through the Senate.
Another sticking point is what will happen to Medicaid. Thirty-one states opted to expand Medicaid under Obamacare, and many Republican governors and senators hailing from those states oppose changes that would weaken the program.
Republican Rep. Leonard Lance, a moderate from New Jersey who Democrats believe will be vulnerable in 2018, told CNN on Tuesday that he believes the House GOP bill will fail in the Senate, and that he doesn't want to vote for a bill that appears dead on arrival across the Capitol.
"I do not want to vote on a bill that has no chance of passing over in the Senate," Lance said. "The CBO score has modified the dynamics."