Demi Lovato Take Control of the Houston Rodeo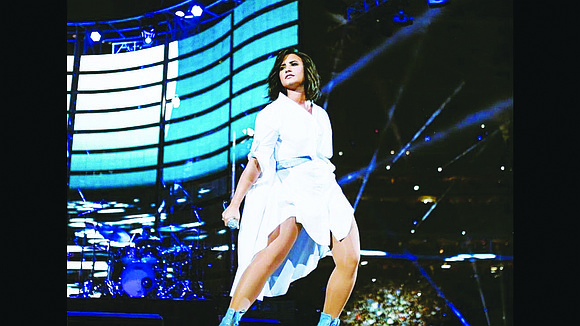 On Tuesday night, songstress Demi Lovato made a triumphant return to RodeoHouston's famous rotating stage.
It's been several years since she first appeared alongside Austin Mahone in 2010 - and again with the Jonas Brothers in 2013 - but the third time was indeed the charm for the Disney sensation, who drew over 66,740 people into NRG Stadium.
Stepping in after Meghan Trainor was sidelined by a vocal injury, Lovato thanked the crowd for coming out for the show with, "I'm really grateful you all stuck around for the show, cuz I know you're here for the rodeo. I'm really glad you guys didn't leave. It brings such joy to me that you guys didn't leave."
Sporting a flattering bob and a white sundress, the singer exuded a quiet confidence, a reflection of her growth as an artist. Kicking the show off with a dazzling light display, Lovato got the crowd rocking with anthems "Heart Attack" and "Confident", a hit from her 2015 album, before diving into "Got Dynamite" and "Firestarter."
Throughout the night, Lovato seemed as in awe of the crowd as they were of her admitting "There's a lot of people here. And the stage moves. This is kind of new for me." She added, "This is amazing. I don't know what else to say so I'll just sing the next song."
And sing she did. Flexing her vocal muscles, the "Neon Lights" singer moved with ease between rock and soulful cuts like "For You", "Nightingale", "Body Say" and a southern rendition of "Natural Woman."
Sharing an intimate moment with the crowd before "Stone Cold," Lovato explained "This song means so much to me. It's about heartbreak. I get completely lost in it when I sing it. It hurts every time I sing it, but I sing it because I know someone out here is going through the exact feelings I had when I wrote this song." A subtle nod last summer's end of a six-year relationship with actor Wilmer Vaderrama.
Thanking best friend Nick Jonas for guiding her through the experience, Lovato revealed "Last summer, I went through heartbreak and had kind of a spiritual experience. I matured. My music matured as well, and Nick encouraged me to allow myself to be free."
Voice soaring throughout the stadium, Lovato ended the night with fan favorites including "Neon Lights", "Cool for the Summer" and more. Making her own mark on the RodeoHouston stage, the "Give Your Heart a Break" singer is on her way to becoming a rodeo favorite.