Fashion Group International of Houston Spring Trends Event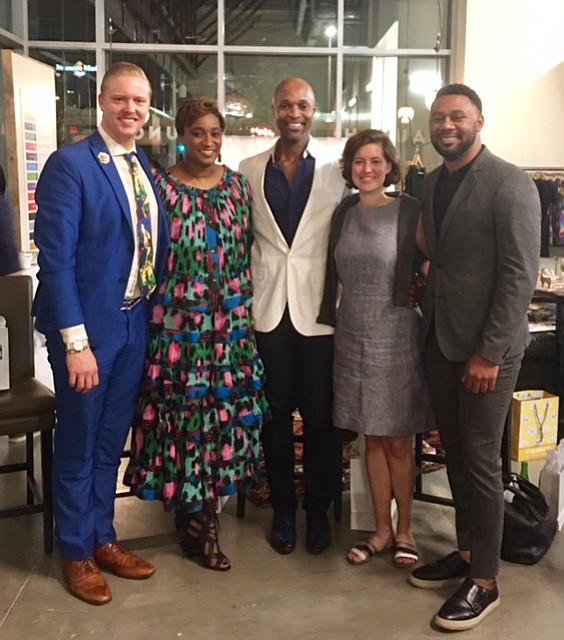 The Fashion Group International of Houston, Inc. (FGI) hosted its biannual Trends event to educate its members and guests on the fashion, beauty and home trends of the season. Hosted at the innovative LAUNCH Pop Up shop in downtown Houston, a dynamic panel of experts including Merin Guthrie, Founder and CEO of KIT; Andrea Bonner, Image Consultant, Fashion Merchandising Professor at Houston Community College; Eric Green, Executive Creative Director for Charming Charlie; and Dick Clarke – Interior Decorator, Co-Founder of Strut; offered sound perspective to attendees, which will serve as a guide to curating a stylish season. Introductions were given by FGI Houston Regional Director, Martha Mtegha and the panel discussion was moderated by Jerry Mathis, FGI Houston Membership Director and Co-Founder, Owner of Space Showroom.
The Spring fashion trends that were highlighted included a neutral or blush color palette, ruffles and flounces and head turning earrings to name a few. It was also noted that colors and textures can be incorporated into home décor to update any living space, regardless of the season.
Guests enjoyed light bites sponsored by London Sizzler as well as an enlightening evening of networking with industry professionals.
FGI is a global, non-profit professional organization whose goal is to be the preeminent authority on the business of fashion and design and to provide informative programming aimed at helping its members become more successful in their careers. Educational events such as the Trends events, member networking breakfasts and other similar program help to accomplish this goal.