When Passion Meets Purpose: Meet Kimo Bentley of the All Natural Kimo Bentley Skincare Brand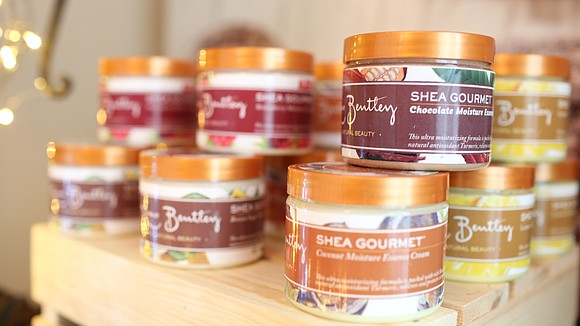 RB: Tell us about the Kimo Bentley brand, what was your inspiration behind the skin care line?
KB: At my core, I am a visionary, a mother, a motivator, a daughter, a friend a believer, an ITEC qualified Skincare professional and a person filled with passion to see others fulfill their dreams. My daughter had eczema as a baby. I was desperately seeking a solution for her problem. After extensive research and trial and error I fell into my career path, there was no door so I built my own.
RB: How did you know working in the skin care industry was your purpose?
KB: My talents were recognized by young mothers and women in my neighborhood. I began helping others who were in the same situation as myself. I did not start my business for financial gain, it was out of a need to clear my daughter's skin. I fell in love with the results and realized that this is where I needed to be.
RB: With so many skin care brands that cater to women of color, what makes yours different from the pack? KB: People should take notice of our difference, because we are a company that educates our customer. It's not always about the sale for us it about building relationships. Building trust, once you gain a person's trust, you are able to transition that into sales and loyal customers/supporters for life.
RB: With women of color being at the forefront of entrepreneurship what is your best tip of advice for a successful business? KB: Advice that I would give to women would be to launch out into the deep! Before you go high you must go deep. You must find yourself. Leaving corporate America is a big deal especially when it is all you have done. Going deep is Rogue. It is understanding that once you leave there is no cushy paycheck deposited into your back account bi weekly and you have to be strong and fearless.
You have to be ok with the fact that you cannot walk into the Louboutin store and walk out with everything your hands touched. You have to be ok with late nights, early mornings, long hours and people not saying thank you for all of your hard work. There are no bonuses at the end of the year, family will get angry with you because they cannot see your vision, and people judge you and criticize you. You'll sometimes feel low, but you have to be able to inspire and motivate yourself.
Going deep requires strength, tenacity, resilience and the ability to not giving up. You have to be able to release the life jacket and launch into the deep end of the pool.
RB: It's a" New Year and New You", what business tips will you be bringing into 2017?


KB: Tip for 2017 is to, be fear-less "Fear-Less" because we are all afraid to actually go after the things that we want and actually believing that it is possible to attain. Make sure you are Fear less in 2017.when you think of FEAR-LESS think of strong willed, heart of gold, and being brave. Being a black girl is FEAR-LESS and liberating in 2017