Key Witness: Aaron Hernandez Shot 2 Men, Then Warned, 'Don't say nothing'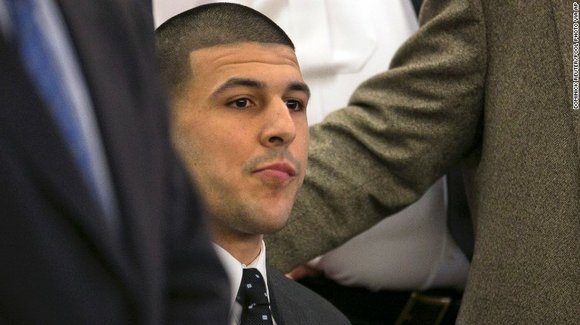 By Eric Levenson
CNN
The incident that prosecutors say led NFL star Aaron Hernandez to shoot and kill two Boston clubgoers was little more than a "splash" of a drink and a smirk, a former friend of Hernandez testified on Monday.
The entire confrontation lasted maybe a minute, the friend said. That was all it took.
That former friend, Alexander Bradley, provided a detailed account of the July 2012 episode during which prosecutors say Hernandez shot and killed Safiro Furtado and Daniel de Abreu while they sat in a car outside a Boston nightclub. Hernandez, the former New England Patriots star tight end, faces two murder charges in the fatal shooting of the two immigrants from Cape Verde.
In addition, Bradley testified that Hernandez became increasingly paranoid afterward, and shot Bradley between the eyes seven months later in Florida and left him to die. But Bradley, who lost his right eye in the shooting, survived and vowed revenge.
Bradley's testimony represents the most compelling and detailed account of the events before, during, and after the 2012 shooting.
In opening statements earlier this month, prosecutors positioned Bradley as the star witness, the "loose end" that reignited what had been a cold case. Hernandez has pleaded not guilty to the slayings.
Defense attorneys have responded that Bradley was a drug dealer, a liar, and a violent criminal whose testimony should not be trusted. Bradley received immunity from prosecution in exchange for his testimony at this trial.
Hernandez already is serving a prison sentence of life without the possibility of parole for the 2013 murder of Odin Lloyd, a semi-professional football player. He has appealed the conviction.
The nightclub
Bradley and Hernandez were "best friends," Bradley said, and he often gave Hernandez marijuana.
On July 15, 2012, the two decided to go out to the Boston nightclub Cure. Before leaving for the club, Hernandez took a revolver and placed it under the hood of his silver Toyota 4Runner, Bradley said.
At the club, a man with braids bumped into Hernandez, spilling a few drops of his drink on the former NFL star.
That man, Daniel de Abreu, then smirked at Hernandez and danced away laughing without apologizing, causing Hernandez to become angry, Bradley said.
"I knew something was brewing," Bradley testified. "He was just agitated, and I just knew what would happen."
The two then left the club and moved to another bar across the street, he said. There, they again spotted de Abreu with his group of friends, and they believed they were being followed, Bradley said.
Hernandez said that he hated when people "try me" or "try to play me," Bradley testified, so they left again.
The shooting
After Bradley and Hernandez returned to their vehicle, Hernandez popped the hood and took out the gun, Bradley testified. Bradley, in the driver's seat, drove around the club a few times until Hernandez spotted a BMW with de Abreu and other men inside.
"There they go, there they go," Hernandez allegedly said to Bradley, urging him to follow. Bradley drove up next to the BMW at a red light, he said.e