Trump, Ryan Go Public with Fight Against Freedom Caucus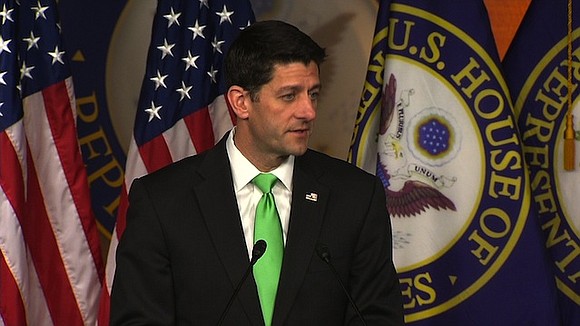 By Lauren Fox, Jeremy Diamond and Phil Mattingly
CNN
WASHINGTON (CNN) -- President Donald Trump has gone public with his war against the House Freedom Caucus, pushing into full view growing frustration shared by House Speaker Paul Ryan less than a week after the GOP health care bill crashed amid feuding between rival Republican factions.
Trump appeared to target conservative House members within his own party in a tweet Thursday morning that told his supporters "we must fight" the House Freedom Caucus as well as Democrats next year.
"The Freedom Caucus will hurt the entire Republican agenda if they don't get on the team, & fast. We must fight them, & Dems, in 2018!" Trump tweeted.
The tweet represented a bold strike against the most conservative members of the House GOP coalition, who often come from safe districts and are frequently impervious to pressure from party leaders.
It comes at the same time Ryan, who has had multiple conversations with Trump since the failure of the health care bill on how to move their joint agenda forward, has attempted to instill fear in his members through a more gentle, but no less subtle threat: if members stand in Trump's way, he'll ditch them -- and conservative principles entirely -- and go looking for Democratic help.
"It is very understandable that the president is frustrated that we haven't gotten to where we need to go because this is something we all said we would do," Ryan told CNN Thursday when asked about Trump's tweet.
An impasse between House moderates and Freedom Caucus members prompted the withdrawal last week of a bill to replace Obamacare that was supported by GOP leaders and the President. The White House accused the conservative group of moving the goalposts during negotiations and Trump has called out the caucus publicly over the weekend as well.
Trump's message wasn't subtle -- nor was it random.
It came shortly after Ryan made clear in an interview on "CBS This Morning" that if his party can't unify, Trump will likely turn toward Democrats for future legislative deals.
Speaking to reporters later Thursday, Ryan amplified Trump's comments.
"I understand the frustration," Ryan said. "I share (the) frustration."
Ryan repeated that "90%" of his caucus is for the health care measure, but would not commit to a timeline on holding another vote.
In tandem, the messages form a dual-pronged campaign to try and emphasize -- and raise the stakes -- of the risks of remaining a divided party, according to sources familiar with the effort.
As the health care debate reached its final days, and in the wake of its failure, Trump and Ryan have taken pains to preserve and improve their relationship, speaking by telephone multiple times a day, in an apparent acknowledgment that their hopes for a substantive common agenda rest on remaining united.
The dynamics of the House GOP conference -- and how to try and bring it together -- have been a repeated topic of conversation, sources tell CNN.