MD Anderson Celebrates 20th Annual Sprint for Life 5K to Honor Ovarian Cancer Patients, Survivors and Families
Event supports research efforts into the prevention, detection and treatment of the disease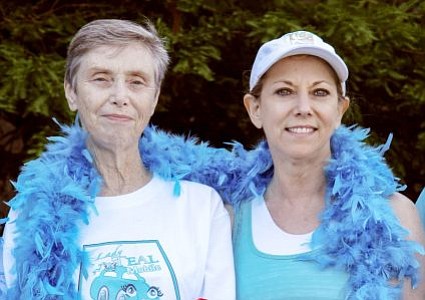 Race Day Information
MD Anderson Cancer Center, 1155 Pressler St.
Saturday, May 6
6:00 a.m. – 7:25 a.m. Late Registration/Packet Pickup
7:00 a.m. Survivors Tent and Kids Zone opens
7:30 a.m. 5K Run/Walk begins
8:30 a.m. – 9:15 a.m. Presentation and awards ceremony
9:30 a.m. Sprouts Pep Rally, Tot Trot and Sprint for Sprouts races
10:00 am Event concludes
HOUSTON ― The University of Texas MD Anderson Cancer Center is hosting the 20th annual Sprint for Life 5K Run/Walk to increase awareness of ovarian cancer and its symptoms. Established to honor patients, survivors and their families, the 5K race raises funds to further research, patient care, education and prevention initiatives focused on ovarian cancer.
Since its inception, Sprint for Life has raised almost $5 million for the Blanton-Davis Ovarian Cancer Research Program at MD Anderson. The research program is named after Laura Lee Scurlock Blanton and Sandra G. Davis, two women whose families provided seed money, funding and a voice in the community for ovarian cancer. Both were treated for ovarian cancer at MD Anderson. Each year, Sprint for Life funds one or two $50,000 grants for researchers to develop data to then apply for long-term funding for their ideas.
Director Anil K. Sood, M.D., leads the program's national efforts for research, prevention and new therapies for ovarian cancer. "The Sprint for Life event is a great opportunity for ovarian cancer awareness and provides valuable support in our efforts to decrease deaths from this deadly disease," says Sood. "Education is critical to diagnosing ovarian cancer at a treatable stage."
According to the American Cancer Society, this year, about 22,440 women will be diagnosed with ovarian cancer and about 14,080 women will die. The disease is the leading cause of death from gynecologic cancers. There is currently no screening or early detection test available.
Symptoms are subtle which result in only 25 percent of ovarian tumors being detected before they have progressed to an advanced stage. Educating women and health care professionals about the risk factors and symptoms are key to higher levels of early diagnosis.
For more information, to register or donate, visit Sprint for Life. To learn more about ovarian cancer or schedule an appointment, visit the Gynecologic Oncology Center.