Black Lawmaker Received Racist Threats After Calling for Impeachment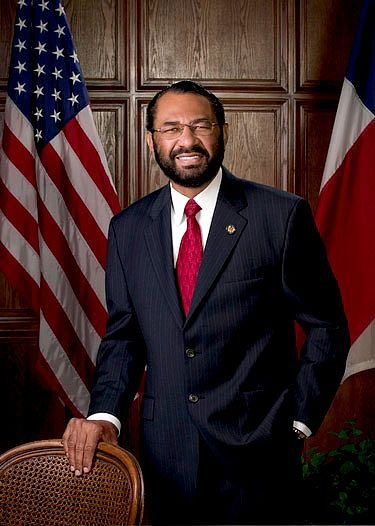 By David Wright
CNN
(CNN) -- Rep. Al Green played recordings at a town hall on Saturday of racist threats he received after recently calling for President Donald Trump's impeachment.
Green -- who is black -- received explicit, racially-charged voicemails after he delivered extended remarks on the floor of the House of Representatives last Wednesday urging his colleagues to begin impeachment proceedings following the revelation that former FBI Director James Comey wrote in a memo that Trump had asked Comey to end his investigation into former national security adviser Michael Flynn.
Capitol Hill police acknowledged they were investigating but declined to comment to CNN on the details of the threats with a spokeswoman saying "we do not comment on ongoing investigations."
At a town hall in Houston, Texas, over the weekend, Green shared the audio and Democratic strategist Mustafa Tameez shared video from the event:
"You're not going to impeach anybody, you fg n*r," said one caller. "You'll be hanging from a tree. I didn't see anybody calling for the impeachment of your n*r Obama. He was born in Kenya, he's not even an American. So, f**k you, n*r."
"We're actually going to give you a short trial before we hang your nr ass," said another.
"You can decide for yourself what we are dealing with," Green told the town hall crowd, saying there was another message he was "not playing at this time."
Green also spoke to the Houston Chronicle about the threats, saying "we are not going to be intimidated. We are not going to allow this to cause us to deviate from what we believe is the right thing to do, and that is to proceed with the impeachment of President Trump."
He said he chose to share the voicemails because "you cannot allow hate to be hidden. You have to expose hate. Hate is a means by which people can be harmed. It's an evil. The best way to deal with evil is to expose."
CNN's Deirdre Walsh contributed to this report.