Stephen A. Smith: "Kevin Durant Has Gotten More Arrogant, More Disrespectful"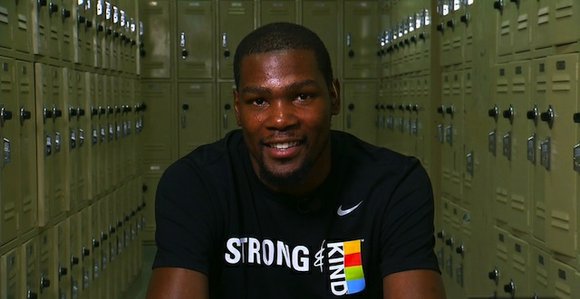 Kevin Durant had a message for NBA fans after Golden State's Game 3 win over San Antonio this past weekend, telling reporters during a post-game interview, "If you don't like it, don't watch it."
KD was responding to everyone who has said this year's NBA Playoffs have been uncompetitive and uneventful, but it's the way he said it that made Stephen A. Smith particularly annoyed.
During ESPN's "First Take," Stephen A. said Durant has gotten more arrogant, more disrespectful, and hasn't gotten smarter.
"He's aged. And along the process of aging, he's gotten more arrogant, he's gotten more disrespectful, he's gotten more dismissive—particularly of the fans," Smith said. "To be quite honest with you, he hasn't gotten smarter. And the reason why he hasn't gotten smarter is because the younger Durant never would have said something so flagrantly disrespectful towards fans."
Durant clarified his comments before last night's Game 4, which the Warriors won again improving to 12-0 in the playoffs this season. Per ESPN's Chris Haynes, Durant said,
"I mean, life can be simple, man. If you don't like the way the game is going, just turn it off. If you're enjoying it, just keep it on. Life is simple. I didn't mean it to disrespect anybody, but if you felt disrespected, I'm sorry. But if you don't enjoy the game, turn it off [and] turn something else on. If you do, enjoy the rest of it, man."
For more information go to http://www.hotnewhiphop.com