Angie Harmon, Rosanette & Harry Cullen Honored at UNICEF Audrey Hepburn Society Ball in Houston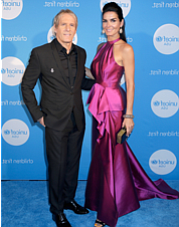 On Wednesday evening, the Southwest Regional Office of UNICEF USA hosted the fourth annual UNICEF Audrey Hepburn Society Ball at the Marriott Marquis in Houston, Texas. The event, emceed by Great Day Houston host Deborah Duncan and featuring a special performance by Michael Bolton, celebrated UNICEF's lifesaving work and honored UNICEF Ambassador and actor Angie Harmon with the Spirit of Compassion Award. Since her appointment as a UNICEF Ambassador in 2013, Angie has served as a spokesperson for UNICEF USA's End Trafficking Initiative and has traveled to Vietnam to bring awareness to UNICEF's lifesaving programs for children.
Rosanette and Harry Cullen were presented with the Margaret Alkek Williams Humanitarian Award for their extraordinary contributions to the causes of children, health and education in the city of Houston and the state of Texas through the Cullen Foundation. Since 1947, the Cullen Foundation has distributed over $450 million in grants to support education and health care initiatives – notably at the University of Houston and at hospitals in the Texas Medical Center – as well as the cultural arts and many other causes.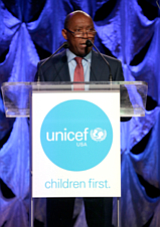 Over the course of the evening, guests enjoyed remarks from Mayor Sylvester Turner, Managing Director of Southwest Region for UNICEF USA Nelson Bowman, Chair of Southwest Regional Board Susan Boggio and Gala Chair of the Audrey Hepburn Society Ball Amy Pierce. The gala featured a moving performance from multiple GRAMMY® Award-winning recording artist Michael Bolton, who sang his hit classic "When a Man Loves a Woman" and a cover of "Stand by Me."
More than 450 guests attended the gala raising more than $910,000, which will support UNICEF's lifesaving work for children around the world. Notable attendees included Mayor Sylvester Turner, Margaret Alkek Williams, The Honorable Joanne King Herring, Jerry Ann Woodfin Costa and Victor Costa, and Princess Tatiana Galitzine and Prince Guillermo Sierra.
Honorary Chairs for the gala include Molly and Jim Crownover, Karin and Sean Hepburn Ferrer, Princess Maria-Anna Galitzine and Prince Piotr Galitzine, the Honorable Joanne King Herring, Dr. Sippi K. Kurana and Ajay Khurana, Penny and Paul Loyd, Beth Madison, and Susan and Fayez Sarofim. Gala Chairs include Sofia Adrogué, Sten L. Gustafson, Jerry Ann Woodfin Costa and Victor Costa, Amy and Rob Pierce, Princess Tatiana Galitzine and Guillermo Sierra.
Live action packages included a custom Victor Costa gown, Nini Jewels "Royale Collection" earrings weighing 47 carats from Saks Fifth Avenue, an intimate concert experience by GRAMMY Award Winner Ana María Martínez and a luxurious vacation in a private house with personal chef in San Miguel, Mexico.