Operation FINALLY HOME, Beazer Homes, The Howard Hughes Corporation® and Houston Texans Invite Community to Dedication of New Home for Wounded Veteran and Family in Cypress
U.S. Army Specialist Cliff Betcher and family to receive keys during celebration Friday (May 26)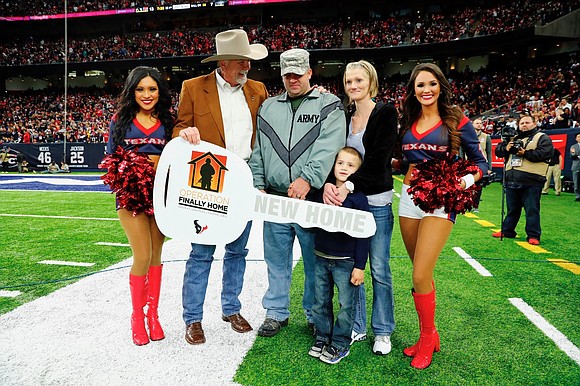 CYPRESS, Texas. (May 24, 2017) – U.S. Army Specialist Cliff Betcher and his family will join representatives from Operation FINALLY HOME, Beazer Homes, The Howard Hughes Corporation®- Bridgeland, and the Houston Texans, along the Cypress community Friday (May 26) at 11 a.m. to celebrate the dedication of their new custom-built, mortgage-free home. The home was built by Beazer Homes with support from their vendors, subcontractors and the Houston Texans on a lot donated by The Howard Hughes Corporation in the Bridgeland community in Cypress.
The special welcome home ceremony will include a ribbon-cutting before the Betcher family receives the keys to their new home. Following the ribbon cutting, the Betcher family will see their completed home for the first time.
The community is invited to welcome Cliff, his wife Wynne and their son, to the Bridgeland community.
Betcher and his family were surprised with the announcement they would receive a new home during the Houston Texans playoff game Jan. 7, 2017. Betcher thought he and his family were invited by the Texans only to be guests at the game in thanks for their service to our country. After being recognized, they played a videoboard game with a trivia question and the answer revealed was the news they were receiving a new home.
WHEN: Friday, May 26, 2017 • 11 a.m. CT
Please arrive by 10:45 a.m. CT
WHERE: Bridgeland Community
16915 Lady Bird Circle Court • Cypress, TX 77433
Directions: From 290, take a right at N. Bridgeland Lake Pkwy./From I-10, take a left at N. Bridgeland Lake Pkwy.
After the bridge, turn left at Josey Ranch Rd. | Turn right at Creekside Crossing Dr. | At 2nd stop sign, turn right at Hidden Pass Dr.| Turn left at W. Creekside Bend Dr. | Take the 2nd right into Barton Creek at Blueberry Cedar Dr. | Turn left at Hays Spring Dr. | Turn right at Lady Bird Lake Ct.
WHO: U.S. Army Specialist Cliff Betcher and family
Operation FINALLY HOME representative
Beazer Homes representative
The Howard Hughes Corporation and Bridgeland community
representative
Houston Texans representative