5 Things for Friday, May 26: Russia, Montana, Travel Ban, G-7 & NATO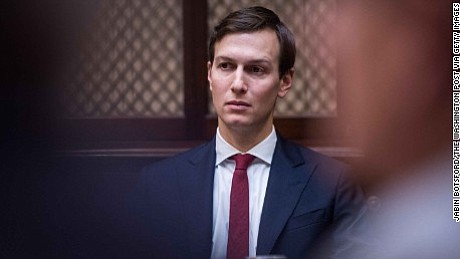 By AJ Willingham
CNN
(CNN) -- You've made it to the end of another intense week. Well, almost. Enjoy your Memorial Day. We'll be back Tuesday morning. Here's what you need to know to Get Up to Speed and Out the Door.
1. Russia probe
The FBI's criminal probe of Russian meddling in the 2016 presidential election is increasingly touching on the multiple roles of senior White House adviser Jared Kushner. That doesn't necessarily mean Trump's son-in-law is suspected of wrongdoing, but the FBI is interested in roles and relationships that fell under his purview during the campaign and transition. That includes the campaign's data analytics operation, which Kushner headed up, and his relationships with Russian figures and ex-national security adviser Michael Flynn.
Meanwhile, the FBI has declined to provide the House oversight committee with documents related to former FBI director James Comey's communications with President Trump. You'll recall, Comey -- before he was fired -- reportedly took notes after some of their conversations. The committee re-issued the request.
2. Montana election
Apparently, you can get in a physical tussle with a guy and still win a federal election. Montana voters chose Republican Greg Gianforte to fill an open US House seat just a day after Gianforte was charged for allegedly assaulting a reporter. "When you make a mistake, you have to own up to it," Gianforte told his supporters at his victory party in Bozeman. "That's the Montana way." The crowd replied, "You're forgiven!" And so he was.
3. Travel ban
The block on President Trump's second executive order banning some travel from six Muslim-majority countries will stay in place, a federal appeals court ruled. The court used Trump's own campaign language and statements to determine the ban's "primary purpose is religious," and thus unconstitutional. In response, the White House says it's taking the case all the way to the top -- to the Supreme Court.
4. Global summits
The G-7 summit is underway today in Italy. This is where seven of the most powerful countries, including the US, meet to discuss the pressing problems of the world. There's certainly no shortage, and they'll cover things like ISIS, Russia (not attending), climate change and Syria. This will be the first summit for President Trump and new French President Emmanuel Macron.
The G-7 comes on the heels of Trump's appearance at a NATO summit, where he ruffled feathers by scolding the alliance on defense spending. Experts say that isn't exactly how the alliance works, and the lecture did more diplomatic harm than good, especially since Trump has been on record declaring the 28-nation alliance to be "obsolete" (then said it wasn't). Oh, and there is video of Trump apparently pushing aside the Prime Minister of Montenegro.
5. Manchester attack
The aftermath of Monday's attack in Manchester has become increasingly complex. Investigators now think the bomber probably had ISIS training in Syria before the attack. The revelation comes as intelligence sharing between the US and the UK resumed after a temporary halt following a series of high-profile leaks. Also new this morning: British intelligence services are handling 500 active investigations into terror plots involving 3,000 people, a government minister told the BBC. But he also said most of these people are the type to "boast a lot to each other but never actually do anything."