Reflections of the Americas Opens at the Frost Art Museum FlU:
Univision Communications Donates 57 Artworks by Forty Masters and Artists from throughout Latin America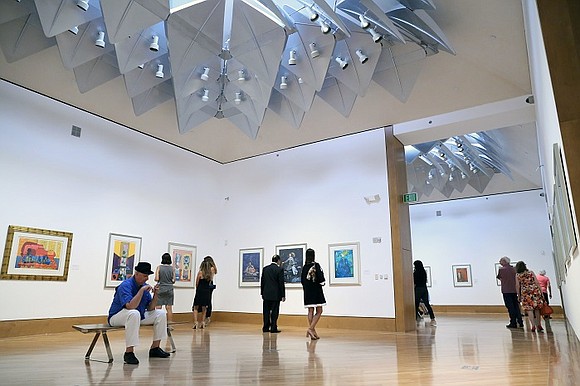 The Director of The Patricia & Phillip Frost Art Museum FIU Jordana Pomeroy welcomed art collectors, cultural luminaries, Univision executives and FIU leadership to the opening reception on October 21 for Reflections of the
Americas: New Acquisitions from the Collection of Univision.
This major donation to the Frost Art Museum FIU by Univision Communications Inc. (UCI) of 57 artworks features serigraphs, paintings and mixed media works by forty artists and masters from throughout Latin America and the United States, including: Cundo Bermudez, Coqui Calderon, Humberto Calzada, Nayda Collazo-Llorens, Connie Lloveras, Antonia Guzman, Wifredo Lam, Jose Perdomo, Rafael Soriano, Sebastian Spreng, Fernando De Szyszlo and Wladimir Zabaleta.
The artists in this collection are from Argentina, Bolivia, Chile, Colombia, Costa Rica, Cuba, Guatemala, Mexico, Nicaragua, Panama, Puerto Rico, Santo Domingo, the United States, Uruguay and Venezuela.
"The Frost Art Museum FIU is honored to have been chosen by Univision for this donation of Latin American art," said Dr. Jordana Pomeroy, the museum's director. "This collection from Univision aligns naturally with our mission to inspire and propel Miami's evolution as a cultural destination. For the first time ever, for this year's Art Basel season the Frost Art Museum FIU is dedicating our galleries to showcase Latin American artists with a winning trifecta of three exhibitions: Reflections of the Americas: New Acquisitions from the Collection of Univision; Rafael Soriano: The Artist as Mystic; and Continental Abstraction: Highlights from the Art Museum of the Americas."
"For over 60 years, Univision has been uniting the 22 nationalities that comprise the U.S. Hispanic community through their one common language, Spanish," said Jessica Rodriguez, EVP and CMO of Univision Communications Inc. "And just as language is a reflection of its culture, nothing is a more accurate reflection of a people's true character and personality than its art. This wide-ranging collection, housed and exhibited throughout the hallways of our flagship Univision Television Network broadcast facility in Miami, has served as a constant inspiration and reflection of the rich tapestry of cultures and traditions that make up this country's diverse Hispanic community. It is especially appropriate that as a longtime contributor to the culture of greater Miami, that Univision donates this collection of celebrated works to another great hometown institution, the Patricia & Phillip Frost Art Museum FIU, so that they may inspire others for years to come."