All Eyes On Trump During High-stakes China Visit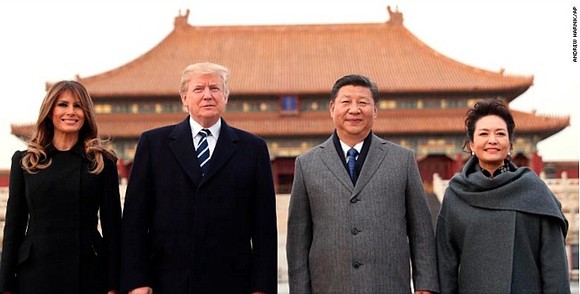 By Kevin Liptak, CNN White House Producer
(CNN) -- China's emboldened leader Xi Jinping offered Donald Trump a display meant to satisfy a leader susceptible to flattery when the US President touched down in Beijing on Wednesday.
But beneath the state pageantry lies another message, one not meant to stoke Trump's ego but instead to issue a stark reminder. Xi, now the most powerful Chinese leader in decades, leads a nation that's poised to challenge the US in new and unpredictable ways.
How Trump -- who is desperate to find success amid sagging approval ratings and an investigation into his campaign's ties to Russia -- responds to Xi's overtures could help dictate the world's most important bilateral relationship for years to come.
"As far as China is concerned, my relationship, as you know, with President Xi is also excellent. I like him a lot. I consider him a friend. He considers me a friend," Trump said earlier this week in Japan, his first stop in Asia. "With that being said, he represents China; I represent the United States. His views are different on things."
The breadth and scale of the issues up for discussion in Beijing render the two-day stop, which begins Wednesday, the most consequential foreign visit of Trump's presidency. Coming midway through the US President's tour through five Asian capitals, his diplomacy in China acts as the fulcrum of a strategy for Asia that hinges upon Xi's cooperation on security and economic issues, which Trump has framed as essential to both American and Chinese success.
At the core is Trump's insistence that Beijing do more to isolate North Korea amid its nuclear provocations, believing that Pyongyang's chief trading partner has unparalleled power to choke off the regime. But the agenda also includes intensive talks on trade, a pet issue for a President intent on returning economic security to the American lower and middle classes.
To drive forward his economic message, Trump will be joined by dozens of American business executives who are expected to announce billions of dollars in agreements, some of which have been in the works for years. The inking of the deals in China can help Trump cast his visit as win, despite the lingering disputes and questions over the trading relationship.
Global statesman?
In the lead-up to his visit, Trump's aides spent a series of focused, hour-long sessions preparing him for the various topical conversations expected to arise during his talks with Xi. But they also worked to coach him on the finer aspects of Chinese official protocol, believing that a seamless visit could help bolster the sense that Trump is an effective global statesman.
Trump's brand of brash and opinionated politics is an awkward fit in China, where diplomacy is conducted according to strict protocols and off-hand comments have the potential to cause unintentional offense. Some Chinese officials have expressed concern at what Trump may say in the country, and there's an acknowledgment that even China's "great firewall" that blocks numerous social media sites -- including Twitter -- will have little impact on the President's ability to fire off messages.