MUSC Cancer Researcher Elected into National Academy of Medicine
Becomes first woman and first African-American from South Carolina selected for such an honor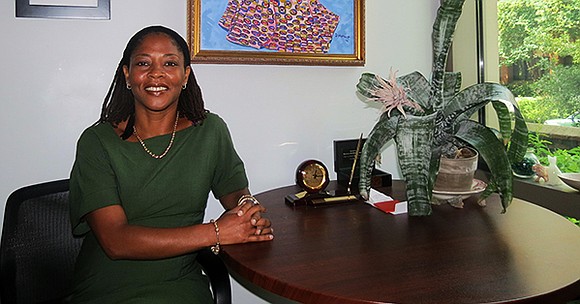 Source: Black News
Charleston, SC — Chanita A. Hughes-Halbert, Ph.D., has been elected into invited to join the National Academy of Medicine (NAM), the first woman and first African-American from South Carolina, to attain that distinction.
"I just see it as a real honor because I think it places MUSC as an institution among some of the most elite academic centers in the country," said Hughes-Halbert, who holds the AT&T distinguished endowed chair in cancer equity. "And one of the things I'm most proud of since coming here is the work that's being done in minority health and health disparities and cancer prevention and control. Several investigators, not just me, are really bringing national attention to MUSC."
Membership in the NAM is considered one of the highest honors in the fields of health and medicine and recognizes individuals who have demonstrated outstanding professional achievements and commitment to service.
"Your election reflects the high esteem in which your peers and colleagues regard you," wrote NAM President Victor Dzau, M.D., in his letter of invitation. "As an NAM member, you are now part of a group of truly distinguished individuals who have made important contributions to health, medicine, and science."
"Dr. Hughes-Halbert is an extraordinary scientist who has dedicated her career at MUSC and the Hollings Cancer Center to addressing health disparities and minority health issues, particularly in South Carolina," said Gustavo Leone, Ph.D., director of the Hollings Cancer Center. "This achievement will continue to elevate the standard of excellence to which our cancer center strives toward, and we look forward to her continued efforts as a pioneer in the fields of health, medicine, and science in the coming years."
The National Academy of Medicine, established in 1970 under the name Institute of Medicine (IOM), is an independent organization of eminent professionals from diverse fields including health and medicine; the natural, social, and behavioral sciences; and beyond. Through its domestic and global initiatives, the NAM works to address critical issues in health, medicine, and related policy and inspire positive action across sectors.
"My first introduction to the National Academy of Medicine happened several years ago when I was on one of their committees," she said. "This committee was charged with examining issues related to the breast cancer and the environment. It was fascinating to be part of that committee because you had an opportunity to interact with other leaders in the field to think in depth about key issues in priority areas and then develop recommendations that ultimately influence the policies that are made for health and health care."
"I think being part of the National Academy of Medicine provides an opportunity for an MUSC faculty member to contribute to that policy-making process and identify other priorities and initiatives."
Hughes-Halbert will bring to NAM the same priorities she brings to MUSC: a focus on minority health and health disparities issues, especially involving cancer prevention and control. This is an issue personal to her: She lost her mother to breast cancer in 1984 and recently lost an aunt to lung cancer.