Singapore Airlines New Double Bed: The $850 Million Airplane Sleep Revolution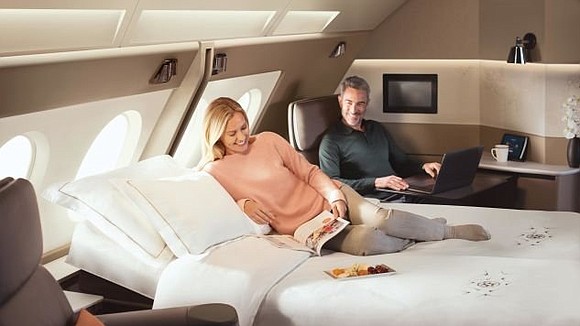 By Cynthia Drescher, CNN
(CNN) -- It's been nearly 38 years since Philippine Airlines unveiled the first fully flat bed on a commercial jet in the shape of slim, bunk-style "Skybeds" on the first class upper deck of its Boeing 747.
That luxury was short-lived, and airlines mostly spent the ensuing decades plotting ways to stuff more and more passengers onto their planes, no matter the class.
Luckily trends change, and the past few years has seen a resurgence in airlines providing for personal space, privacy, and -- yes -- a quality rest.
Singapore Airlines has now revealed the latest luxury sleeps in the sky, thanks to an investment of $850 million dollars in its aircraft interiors, bringing about "Suites" that look more like hotel rooms, and business class seats that convert to double beds.
Luxury suites
If this news triggers déjà vu, it's because the airline has been offering double beds in its highest class of service for a decade, beginning in 2007 with the arrival of the first Airbus A380 to enter commercial service.
"Our original Suites were the first to offer double beds in the sky and they are still regarded as the ultimate in premium travel," Goh Choon Phong, chief executive at the carrier, said during the unveiling in Singapore of the latest designs. "Not only are we retaining that feature, but now the beds are even more plush and comfortable than before."
There are six Suites at the front of the A380's upper deck, and each may be individually closed off from the aisle by sliding, half-height doors.
Within, a passenger is equipped with a 76-inch-long bed separate from the seat, though the latter boasts a 270-degree swivel and 45-degree recline for dining (with Wedgwood china), getting work done (over high-speed, Inmarsat Global Xpress satellite Wi-Fi) and, or simply daydreaming out the windows before it's time for rest.
A 32-inch high-definition TV, Lalique amenity kit, leather-lined storage nooks, and a touchscreen control tablet for entertainment and lighting complete the experience.
Focus on quality
Despite the bells and whistles, the focus for the new Suites is overwhelmingly on providing quality time to the guest, hence the abundance of privacy.
It's a consideration frequent business travelers such as Gary DeGregorio, an executive at global technology consultancy ThoughtWorks, can well appreciate.
"Those traveling on business in C-level roles or in the fields of sales or consulting, need to be influencing the external and internal stakeholders constantly, so a very focused and positive state of mind is crucial," DeGregorio tells CNN Travel.
"Rest and privacy are important during long flights as typically one does not have the luxury of time while traveling on business; privacy offers more control over the environment, the ability to prepare work more freely, and less psychological pressure in interaction."
The Singapore Airlines reveal also showcased entirely new business class seats, constructed of carbon fiber composite "similar to the kind of material you see used in Formula One race cars," noted Goh.