Meet the JJ Twins: A Package Deal Taking Over the Fashion World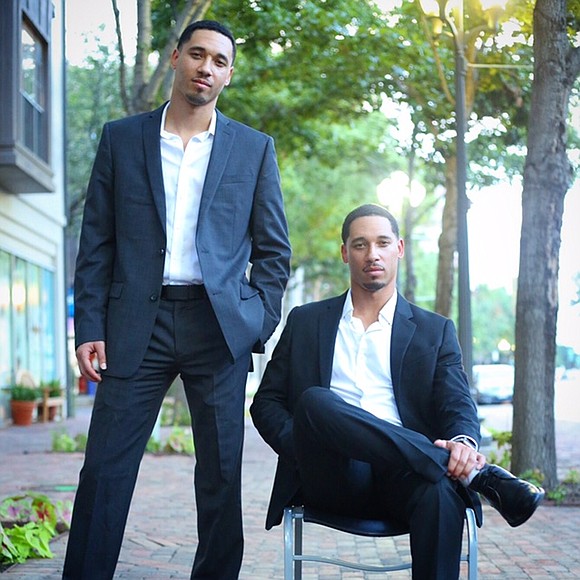 Here at Houston Style, we love fashion, and I was pleasantly surprised to learn of the distinctive modeling duo JJ Twin. These too kind and hospitable gentlemen, John and Jonathan Calton, are creating a unique footprint in the fashion modeling industry...as a pair.
The Calton brothers have already been featured in many high profile fashion shows, including those of the well-known New York Fashion Week. Although modeling is their main focus, the Caltons want everyone to know that they are more than just fashion models.
"We don't just model, we act, dance, play basketball, play violin and piano. We also host, and do public speaking," Jonathan said.
With creole roots, the multitalented duo brings a unique look to the modeling industry, which helps them stand out to agents that are searching for new talent. John and Johnathan grew up in Shreveport, Louisiana, which is where they learned of their unique traits.
"Growing up we always got a lot of attention of course because we were twins. People would ask us our names and when we would tell them, they would get confused, they would say, 'but wait, that's the same name!" John said laughingly. "People started calling us the twins because our names were so similar."
The positive attention from their hometown helped inspire Jonathan and John's modeling career.
Being African-American models has not been a limitation for the pair, as they don't recall a time that they felt discriminated against.
The Caltons do, however, have some highly sought after physical features, but they choose to be modest when it comes to their looks.
"Our looks might help us some, but the fact that we're Creole and being twins probably stands out more when we're auditioning," they said. "It's still definitely a tough industry."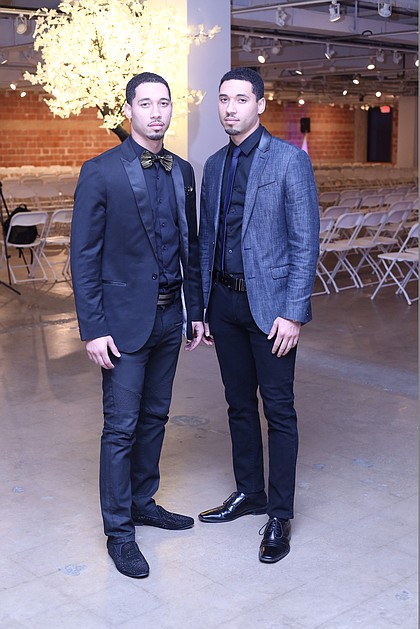 In a lot of cases, twins, such as Mary Kate and Ashley Olsen, or Tia and Tamera Mowry purposely work to be known for their individuality as adults. The Caltons took another route. I asked the brothers why they chose to model as a pair rather than individually.

"We already feel like we're individuals. We never felt like a pair. Growing up, our mother never really dressed us alike, except for a few times, but she always treated us like individuals," John said.
Jonathan said modeling together also helps them retain their bond as brothers.
The pair travels the country often participating in fashion shows. Recently, the twins hosted the Bay Area Black Expo in California alongside Actor Darrin D. Henson, and Basketball Wives star Jackie Christie. They also participated in several events around the Houston area.
"I just want to add that not only are we models, but we are also professional businessmen, Jonathan said.

Both John and Jonathan are fathers and have full time careers.
Having stable careers with a set schedule, they are granted the flexibility to travel to shows and spend time with family during their off times on weekdays and weekends. They also save vacation time to travel.
Jonathan said it's great to have a career, but it's important to make the sacrifices necessary to pursue your dream, even if it requires staying up later or giving up free time. "Having multiple streams of income is really the best way to truly be successful," he said.

The pair also had some rarely given advice for aspiring models.
"Be confident. Know yourself and be comfortable with yourself. You're unique and have something that no one else has. Know your angles in this business and what poses or looks don't work for you. That means you might have to spend some personal time in front of the mirror doing various looks and poses that may be uncomfortable to you. It's better to be uncomfortable in the comfort of your own home than to do a show in front of a lot of people and be uncomfortable. Also be ok with who you are for the sake of dealing with adversity. This industry can make you feel like you're not good enough or you don't have the look. We've learned that someone's no is another person's yes in this industry. Different people search for different looks to be confident and never give up on your dreams," they said.
The duo has officially launched their JJ Twins Brand. The pair can be found on social media @theJJtwinsbrand or at thejjtwins.com