Country Music Hall of Fame and Museum Announces Details for Tim McGraw and Faith Hill Exhibit
Exhibition to Open November 17 and Will Feature Dressing Room Mirror McGraw Used to Propose to Hill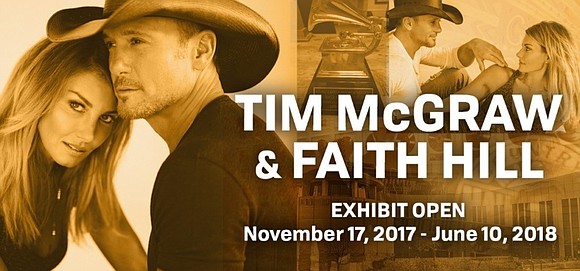 NASHVILLE, Tenn. November 14, 2017 – Grammy-winning country artists Tim McGraw and Faith Hill will be the subjects of an exhibition at the Country Music Hall of Fame® and Museum opening November 17. Titled Tim McGraw & Faith Hill: Mississippi Woman, Louisiana Man, the exhibit will chronicle the parallel singing careers that started in adjacent Southern states and merged--as spouses and performing partners—in Nashville. Among the many artifacts in the exhibit will be the mirror from McGraw's dressing room, upon which he proposed to Hill, and she accepted.
The exhibition will incorporate a wide array of memorabilia representing milestones and significant moments in the couple's lives, from Hill's Mississippi upbringing and singing in church, to McGraw's youthful promise as a baseball player, and, later, their high-profile lives as entertainers with dozens of top hits and a slew of industry awards between them. The couple, whose individual careers have celebrated multi-platinum records, sold-out tours, #1 hits and multiple Grammy, ACM and CMA Awards, have also built their Soul2Soul tour franchise together, one of the most successful running tours in the history of country music.


"We are honored to be included in the halls of this historic museum, among the names and faces of so many of our friends and musical heroes. This is a moment that dreams are made of, and we are so appreciative to the Country Music Hall of Fame and Museum for all of the hard work and care that has gone into the exhibit," said McGraw and Hill.
A few highlights of the exhibition include:
Playskool airplane-shaped desk used by Hill as a child.
Ivory-colored Heidi Weisel gown with short train, worn by Hill at her wedding to McGraw in 1996.
Mirror from McGraw's dressing room, on which Hill answered his marriage proposal, using a felt pin to write, "I am gonna be your wife! Yes. Love you so, so much."
Outfits worn by Hill and McGraw in the 2017 music video for "The Rest of Our Life," including:
o Gucci gown and Jimmy Choo shoes worn by Hill.
o Dolce and Gabanna jacket, Tom Ford shirt and bowtie, Lanvin pants, and boots worn by McGraw.
Black leather Neolite cowboy boots worn by Hill in the 1993 music video for "Wild One," her first #1 single.
Leather jacket worn by McGraw in the 1994 music video for "Indian Outlaw."
Grammy presented to Hill for Best Country Album (2000), for Breathe.
Grammy presented to Hill and McGraw for Best Country Collaboration with Vocals (2000), for "Let's Make Love."
ACM award presented to McGraw and Hill for Song of the Year (1997), for "It's Your Love."
Grammy presented to McGraw for Best Male Country Vocal Performance (2004), for "Live Like You Were Dying."
"From two different but similar walks of life, Tim McGraw and Faith Hill were brought together by country music," said museum CEO Kyle Young. "Their blue-chip careers now span several decades. They have become megastars who continue to inspire people with their music. They pour their hearts and souls into their work, and we are proud to share the story of this Mississippi woman and this Louisiana man."

With an unduplicated collection of more than 2.5 million artifacts, the Country Music Hall of Fame and Museum celebrates its 50th anniversary in 2017. The exhibit on McGraw and Hill joins 2017 exhibits on Jason Aldean, Shania Twain, Loretta Lynn and Lynn Anderson.
For more information about this exhibition, visit countrymusichalloffame.org.